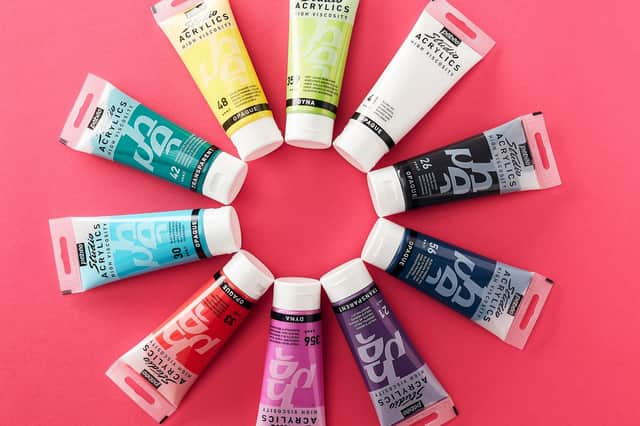 Hobbycraft has launched online art classes.
Leading art and craft retailer Hobbycraft is running digital tutorials on its Facebook page throughout the summer featuring in-store experts.
Pen drawing will be the theme of the class on August 15, which will be led by Emma Hunt, illustration artisan in Hobbycraft's store in Chester.
Gouache painting on August 20 will be led by Bethany Ainsworth, painting and Cricut artisan in the Preston store.
Acrylic pouring will be hosted on August 27 by Vicky Boyns, floristry Cricut and sewing artisan in the Rugby store.
Acrylic painting will be led on September 3 by Charlotte Baker in the Woking store.
Pencil drawing will be hosted by Bethany Salt, printmaking, textiles and sewing artisan in the Chesterfield store.
Two artists will host Facebook lives sessions from their studios on September 10. Jenny Muncaster will provide mixed media inspiration and give a demonstration, Nancy Wood will demonstrate how resin can be used to create art.
Hobbycraft is also on the look out to find its annual UK Artist of the Year, and is inviting customers to share their art creations for a chance to win an art bundle worth £300. There are three categories to enter: junior, student and adult, and one winner and one runner-up from each category. The three winning entries will be chosen by Hobbycraft's panel of expert judges, including Jenny Muncaster, Nancy Wood and Barbara Murray. The competition runs until September 30 and can be entered by visiting https://woobox.com/6k6h6u
The retailer has reported a growing interest in all things art and craft. In the past three months, Hobbycraft saw an 44% increase in the number of visits to the Fluid Art category page. The retailer's How We Got Hooked Craft Report also revealed searches for paint, canvas' and paint by numbers increased by 380%, 186% and 578% respectively.
Hobbycraft sells more than 25,000 arts and crafts products for hundreds of creative activities, from art, baking, home craft, papercraft, knitting, sewing, kids' crafts and model making, to accessories for weddings, celebrations and much more