Mock The Week star Andy Parsons will tour live show to Derbyshire
Political comedian Andy Parsons will bring his mission to heal divided Britain to Derbyshire.
Thursday, 8th October 2020, 5:30 am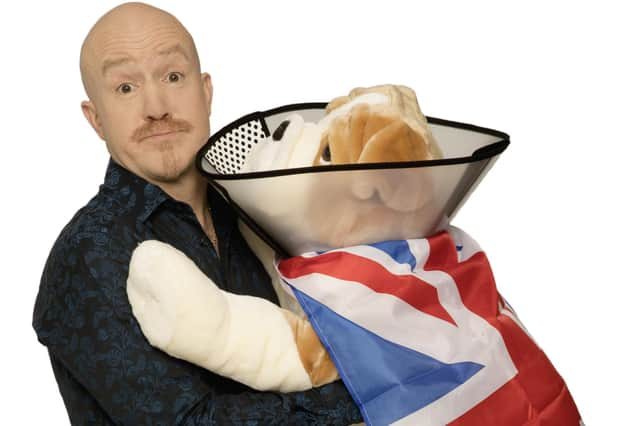 Andy Parsons will tour his Healing The Nation show to Buxton next year. Photo by Andy Hollingworth.
The man, who was a fixture on telly's Mock The Week for many years, will perform at Buxton's Pavilion Arts Centre on February 19, 2021.
Andy is calling time on the negativity that reverberates on this split island in his show which is entitled Healing The Nation.
He said: "In the current media analysis, everyone is in the centre of their own social media bubble, and everything is kicking off left, right and centre. So the idea for the tour was that rather than being incredibly one-sided and partisan and throwing stuff at the opposition, it's nice to see both sides of the argument. I'll be taking on viewpoints that wouldn't normally find a natural home in one of my stand-up sets and try to genuinely see the other side of that argument.
"The idea in the show is that everything is proving divisive at the moment, and that no one is talking to each other or seeing issues from both sides. Essentially, people have the same concerns whether it's health or education or jobs, and I want to narrow down the focus of what people do want and bring them together."
Andy's tour began last year and he updates his show to suit he changing political and social landscape. He said: "When your show is topical then inevitably it will be very different when the tour finishes from where it started. This is mainly because of current events, but also it's good to keep it fresh anyway, not just for the audience but for myself. If you're performing over 100 shows and just doing the same set every single night then it becomes a job rather than a pleasure."
Next year's show in Buxton is a rearranged date due to to coronavirus pandemic which resulted in the temporary closure of the venue. If you have bought tickets for the original date of March 20, 2020, these will remain valid for the new date.