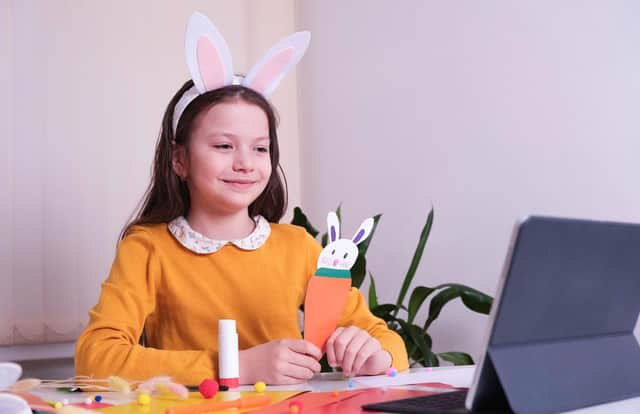 Children can create Easter bunnies with help for artist Lucie Maycock. Photo by Shutterstock.
Young people will be able to get creative and join in with crafts, including creating their own woven eggs and chicks out of recycled CDs.
Local artist, Lucie Maycock, will be delivering online workshops showing residents how to make Watercolour Surprise Easter Eggs and Funky Easter Bunny Art. Younger children will be amazed as the patterns appear on their surprise eggs using wax crayons and watercolours and older children can use a variety of patterns, colours and pop-art ideas to bring their funky bunnies to life.
Residents can get involved by heading over to the Chesterfield Museum Facebook page where craft activities will be posted throughout the Easter weekend. 'How to guides' will also be available on the museum website for young people to make at a later date.
The team have also organised a spring scavenger hunt which will be ideal for getting children outdoors and active, in line with current Government restrictions. More information can be found at: www.chesterfield.gov.uk/explore-chesterfield/museum/whats-on/easter-holiday-activities
Finally, adults and older children will be able to learn more about the amazing life of local legend, Bess of Hardwick, in a video from History's Maid which will be available to watch on the Chesterfield Museum Facebook page and website from Thursday, April 8.
Ian Waller, Chesterfield Borough Council's service director – leisure, culture and community wellbeing, said: "Over the past 12 months we've been looking at different ways we can help keep families entertained while they are at home and we're really excited about the activities we've got lined up for Easter.
"We know Easter is going to be different again this year, but we want to make sure families can still enjoy themselves and have the chance to get creative from the comfort of their own homes."
A message from Phil Bramley, Derbyshire Times Editor
In these confusing and worrying times, local journalism is more vital than ever. Thanks to everyone who helps us ask the questions that matter by taking out a subscription or buying a paper.