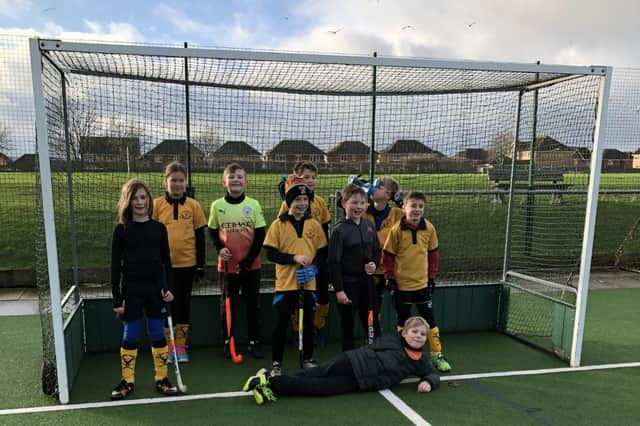 Juniors from Buxton Hockey Club
Steady growth in membership has the club fielding four men's teams in the Midlands Open League and three women's sides in the Derbyshire Hockey League this season.
Chairman Chris Clayton, whose association with the club stretches back to the late 1970s, says a lot of their success has been getting the parents involved, as well as the kids.
"A lot of clubs will have kids playing because their parents play," he said.
"We've managed to get parents playing because their kids are playing.
"Quite a number of our members come along because of their kids - we have mums and dads playing.
"It does mean that when the half-term holiday comes we have a job getting teams out because we don't just lose one or two, we lose a whole family of players.
"We've done very well getting kids playing, their parents playing and really that's where the ladies section has grown from.
"We've got people coming into the club from different areas, who might not have played hockey for 20-30 years, and that's been important for numbers.
"We've had rugby players and football players coming along who no longer want to risk having their legs broken but know where to be on the pitch.
"Hockey is a social sport and we try to look after people.
"Some people might just come along for a few weeks but others decide they love it and want to stay.
"We've had one family who hadn't really played; the daughter played and now mum is secretary of the club and dad is the second team captain.
"We have a strong committee too - a lot of people are involved - and that's something we've done very well."
Clayton's five-year term as chair concludes in May.
The growth of the men's and women's sections during that time and the current financial stability of the club are among his highlights.
"Where I'd like to see us get back to is a much stronger junior section," said Clayton, who continues to play as second team goalkeeper.
"We had a very strong junior section - 60 to 80 kids at under-11s - when Peter [Danson] was involved.
"Now we have the senior structure in a better place it would be nice to get the junior section back up to the strengths it was seven or eight years ago."
And added: "Along with improving the quality of our hockey.
"We've got people who love playing hockey and we want to be able to keep at the top end.
"We're proud to be a very inclusive club where anyone can come along and play.
"I'd like to think we could compete at the top end as well."