​Mixed finale for Iddon at Brands Hatch
​Christian Iddon and his Oxford racing Moto Rapido Ducati put in a fighting end to the 2023 British Superbike Championship after a huge crash in the penultimate race of the year left him battered and bruised but thankfully still able to race in the final event of the calendar.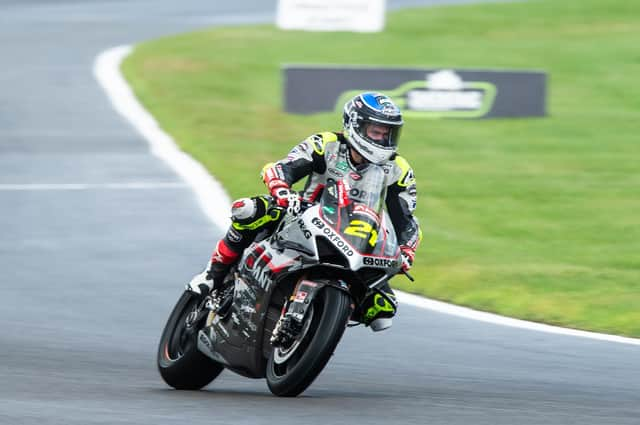 Iddon ended his 2023 British Superbike season at the Brands Hatch circuit with a fifth, a DNF and a sixth-place finish.
Throughout practice, the riders were met with mixed conditions but Iddon seemed to have things in hand in all conditions as they maintained a position near the top of the leaderboard in all the sessions which resulted in a ninth position grid slot for race one.
Battling through the pack in the Sprint race, Iddon ended in fifth position but the real drama was to come on Sunday when Iddon was thrown from his machine early in the first feature race and transported directly to the medical centre for a check up.
Thankfully, everything came back clear and Iddon was able to line up for the final race of the season and although he was feeling less than on top form, he was able to run near the front of the pack and finish the season with a strong sixth position.
Iddon said: "What a hard end to the season that was. It's a shame it had to be such a painful end though as the team put a great bike underneath me all weekend and we had good pace in all conditions.
"The first race went quite well but we were just missing a little bit of something then on Sunday conditions went super cold so we opted for the harder tyre. The setting was better than we'd had but I'd had a few warnings with the hard tyre and eventually it let go in a big way. I'm just really thankful not to have been more injured than I was because that one hurt.
"The team rebuilt the bike and got me out for the final race. I genuinely didn't know if I could race but the adrenaline kicked in and I didn't feel too much detriment to my riding and we ended the season with a sixth position.
"It's been a tough season and we have fallen short in a big way on the main goal that was set. It's hard to pinpoint exactly where and how things went wrong but I think it was more a case of a number of factors that built up over the year that left us falling short of the goal.
"Despite everything though, I know I have given my all in every race and I have had that same commitment from my team so we can be proud of fighting to the end and we can still take two pole positions and four podiums away with us as a memento of the year.
"I want to thank the team, my family, friends, sponsors and supporters for all their help this year."