​Kent takes third overall following Brands finale
​Buxton's Chris Kent endured a mixed final weekend of the British Motorcycle Clubs' 2023 season at the Brands Hatch Indy circuit.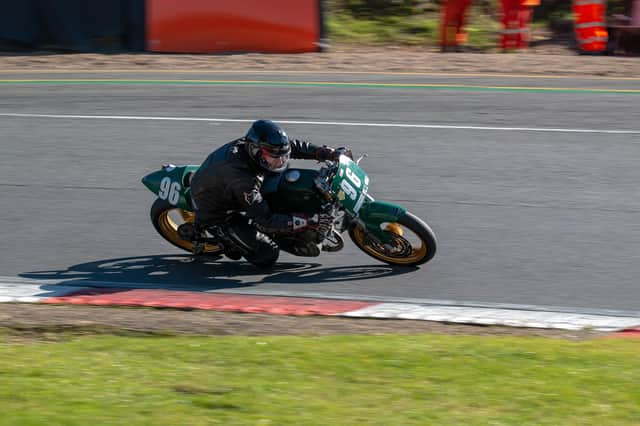 Kent arrived in third place in the British MZ250 Championship with a 29-point advantage over the fourth place rider, having missed the previous round at Snetterton due to work commitments.
Qualifying in fifth place meant a second row start for race one and would ultimately take a second place finish, having initially overtaken his championship rival and led briefly on the final lap before being re-passed into Druids hairpin.
Race two meant a front row start and Kent slotted in to third place. The lead pair were able to pull a gap of a couple of seconds until the race leader crashed, elevating the Buxton man into second where he again finished.
Race three on Sunday began in dry conditions again, but Kent made a poor start and dropped back through the field, but he fought back into sixth and ultimately finished fourth after a collision in the lead pack saw a rider ahead of him drop out.
Kent said of race three: "The start was awful, the bike bogged down and I felt that there may be a clutch problem. About half way through the race I could feel the bike struggling and losing power so I was one second a lap slower than previously and I couldn't challenge the riders ahead. When I returned to the paddock I discovered a hole in the clutch cover, which explains the performance issues."
Unfortunately, while inspecting his bike prior to repairing the clutch cover, Kent found that the frame of his MZ250 was cracked. After consultation with his engine tuner, it was decided to withdraw the bike from the final race on safety grounds. However, a fellow racer offered Chris the use of his bike for the final race, so Race four began with Kent on an unfamiliar machine.
It soon became clear that there was a fuelling issue with the bike so after two laps Kent retired from the race.
He said: "It's a shame that I wasn't able to complete the final race, but it hasn't affected my Championship positions. This season has been about getting the bike handling properly again and I've made some good progress.
"I've taken third in the overall British MZ250 Championship and first in the Mave Higgins, Over 50's MZ250 Championship so I'm happy with my performances and am looking forward to next year."​​​​​​​​​​​​​​​​​​​​​