​High Peak AC athletes impress in Chesterfield
​Junior athletes from High Peak Athletics Club were in action at the opening fixture of the Derbyshire Indoor Sportshall athletics season at Queens Park Leisure Centre in Chesterfield.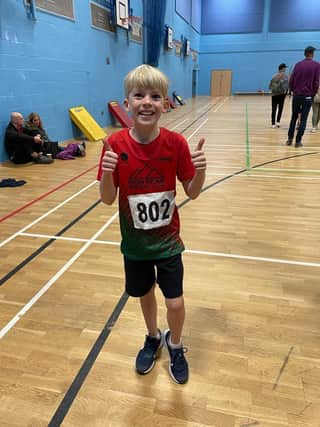 They competed against athletes from other Derbyshire clubs, including Derby AC, Amber Valley and Chesterfield, and were in full flow, competing in the relay, sprint, shot put, triple jump and high jump.
With a strong presence in the Under 11 category, High Peak achieved some excellent results. In the Sprint 1 lap, Scott Curwen again impressed, taking first place, and Alfred Pritchard second.
In the girls 1 lap, Georgie Riley came fifth. In the 2 lap sprint, the talented Alfred Pritchard finished first with a commanding victory.
More success came in the standing triple jump, with George Murcott finishing first place with a superb effort. In the 4 x 1 lap relay, the boys capped off a captivating performance, finishing second in a tough field.
The team was made up of Scott Curwen, George Murcott, Laurie Swain-Fossey and Scott Thomson respectively.
There was another positive display in the U13s category with an abundance of fine results. Charlie Wardle finished second in the 2 lap and 6 Lap sprint, with an imposing performance.
In the Vertical High Jump, the girls shone with Isabella Curwen finishing in first place and Emily Hallworth seventh.
Further success came in the Standing Triple Jump, with Charlie Wardle finishing third, Alfie Fraser finishing fifth and Charlie Henshaw seventh.
In the girls Standing Triple Jump, Jemma Waters finished seventh, respectively. In the girls shot, Lexi Hanshaw finished sixth with a valiant effort.
In the 4 x 2 lap relay, both the girls and boys team's secured fourth place with commendable vigour.
With a wealth of energy and enterprise, the High Peak Athletics team move on to their next sportshall fixture in Chesterfield on November 19th.
If you would like more information or would like to be part of High Peak Athletics Club, training for 7-17 year olds is held on a Saturday morning, 9.30am at the Buxton Community School.