​Buxton boxers impress at club's annual show
​Buxton ABC hosted their annual show in front of a packed Devonshire Dome with a full card of Buxton boxers competing on the evening.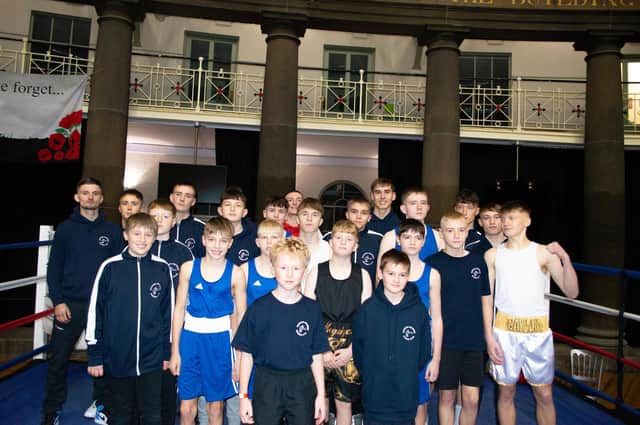 The show was dedicated to the memory of head coach John Taylor who ran the club for many years and recently passed away. The traditional ten bells was conducted in respect of John, who put Buxton boxing on the map and did so much for the town and club.
First up was Jaydon Ruane, a talented boxer with much potential as shown in his three early Skills contests, and who was unlucky to be beaten by a talented boxer from Chorley.
Fin McGuigan was victorious in his bout, busy from the first bell, pushing forward with straight shots and whipping in accurate hooks to head and body. Fin continued to have the better of the exchanges against a very game opponent and secured a well-earned win.
Brook Stobbart bounced back after two difficult and challenging contests. Brook was matched against capable opposition and was forced to work throughout the contest, maintaining high hands and pushing forward to earn a victory.
Cyle McGuigan may feel unlucky after dropping to a loss in a close contest, whileJosh Harrison is another boxer who may feel disappointed not to get a victory after a close and hard fought contest against a capable Stoke boxer.
Billy Brookes scooped Most Improved Boxer of the Year award and went on to provide stoppage of the night after a ferocious start. Brookes was fast out the gate and, whilst his opponent was game and brave, Brookes landed with a combination of quality straights and sensed his opponent was feeling the pace. Brookes finished with quality, letting his hands go and forcing the referee to step in and wave off the contest.
Caylum Martin was rematched in a tough return against Derby opposition whom he boxed earlier in the season in the Championships. Martin was once again pushed in this one, but was equal to the challenge and did enough to secure a points victory.
Ennis Kirk-Fletcher and his opponent put on one of the best technical displays of boxing of the night, though Buxton felt he was unlucky not to be handed the win after some quality counter-punching.
Stepping in to the competition ring to make his debut was Buxton youth boxer Seth Tagg boxing at 63kgs. After settling in to the contest, Tagg boxed excellently against a tough, dangerous opponent who was looking to test the chin with looping hooks. After settling down, Tagg boxed to instruction, pushing out his long levers and scoring with regularity. This was a strong debut from a capable boxer against a powerful and dangerous opponent.
Buxton super-heavyweight Josh Tatton put in a punch perfect display to win his contest by a unanimous decision against his Derby City opponent, while Shaun Taylor awarded youth boxer Lewis Lingard the prestigious John Taylor Memorial Trophy for his barnstorming youth contest at 66kg against a talented Stoke boxer.
Lingard was also awarded the Gary Thompson Boxer of the Year Trophy for a stellar season.
Senior action was kicked off with Cav Holford beaten in a close points loss, while Keanan Bates' quality shone through as he beat an opponent from Nottingham.
Middleweight Josh Taylor returned after four years and took part in a good contest against a Barnsley fighter who took a close decision.