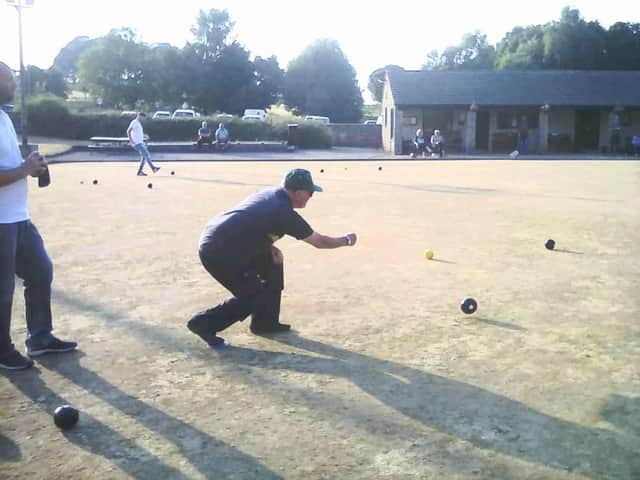 Bowlers from the Buxton and North Derbyshire Leagues will be back in action after the enforced break in 2020. Photo/Facebook.
With the sport having been badly affected by the lockdown restrictions, competitive action was unable to take place on a league level in 2020, with only a few inter-club competitions able to take place whilst observing the numerous rules in place.
But now both leagues will get back up and running, with the Buxton League starting on Monday (17th), the North Derbyshire League on Wednesday (19th) and the North Derbyshire Vets League on Thursday (20th).
Chris Jackson, treasurer of the North Derbyshire Bowling Association and also Chapel Park Bowling Club, says members are very keen to get playing again.
He said: "There was no league bowling at all last year – only inter-club events could take place and not too many clubs took up that option.
"Those that did saw it as a good way to not only keep us amused during the lockdowns but also to keep our eye in, given that bowls is the kind of sport where it's useful to do so!"
One challenge now facing clubs across both leagues is attracting some players back to the game, with memberships having dropped and some teams being unable to form a squad at all.
Mr Jackson said: "We have had three or four teams drop out of the North Derbyshire League and a couple from the Buxton League, purely down to not being able to bring in enough players. Some of those that remain haven't been able to gather as many players to choose from.
"We hope that people will come back to it but it's possible that over the last year they may have lost interest or found another hobby.
"We encourage people to get in touch with their local clubs if they want to play because our leagues are very popular and it's a great social sport to be involved with."
The Buxton Division One season opening fixtures see reigning champions Fairfield A travel to close challengers Chapel Park A in a mouth-watering clash.
Youlgrave, who have taken the place of Hope Works, entertain Burbage in an intriguing match while promoted Whaley Bridge B travel to Peak Dale A.
Whaley Bridge A host Birch Hall and Tideswell have the open date.
In Division Two, Rams Head entertain Buxton Park B with newcomers Hadfield travelling to Bradwell.
Fairfield B begin their quest for a quick return to the top Division with a visit from Chapel Park B. The other two fancied teams in the division, Buxton Park A and Trades Hall, both have home games with Peak Dale B visiting the Park and Cote Heath making the journey to New Mills.
*Throughout April, under Covid guidelines, four pubs from Chapel-en-le-Frith battled for the much-coveted Pub Bowls League Trophy, sponsored by The Old Cell and Rems.
Approximately 40 new players represented their pubs in a format designed to encourage new players. All were beginners and of various ages, with 12 subsequently joining Chapel Bowling Club.
New Inn won the league on the final evening, repelling the challenge from the gallant Rems team. Old Cell finished second, Rems third and the Pack Horse fourth.