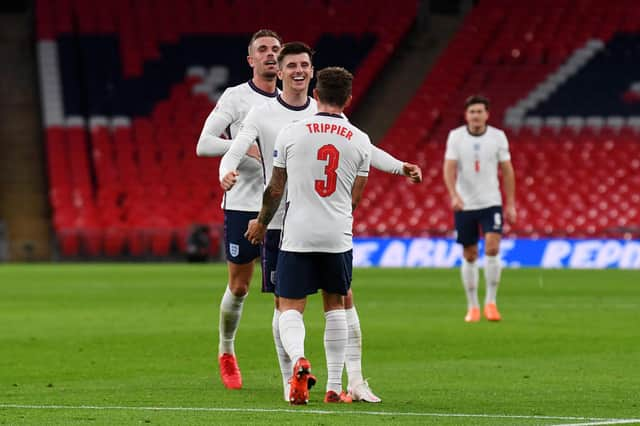 England will be aiming to bring some cheer to the nation this summer by winning the Euros. (Photo by Neil Hall - Pool/Getty Images)
We were deprived of them last summer when they were cancelled and now, with the vaccine roll out going well and lockdown restrictions set to be eased, it looks like we could potentially enjoy the games in the pubs.
It will most likely lead to scenes r eminiscent of the summer of 2018 when the sun shone and we all enjoyed the ride of England reaching the World Cup semi-final.
It should also be a special tournament for England as all three of their group games will be played at Wembley Stadium.
Wembley will also be hosting both semi-finals, and the final so let's hope Gareth Southgate's men will return to play under the famous arch later in the tournament.
The fact that Wembley plays such a prominent role in the competition does make it extremely frustrating that England isn't hosting the rest of the competition. UEFA's grand plan of hosting the tournament across Europe to celebrate the 60th anniversary of the Championships was always better on paper than in practice but in this new, COVID-19 world in which we live in, it seems even more ridiculous.
Rumours started circulating that Britain had offered to host the whole tournament but that was denied by Health Secretary Matt Hancock.
The UK and Republic of Ireland have launched a joint bid to host the 2030 World Cup though and given that it was 1996 when we last hosted a major tournament, and 1966 when we last hosted the World Cup, I agree with the Prime Minister who said "it's the right time" for us as a country.
Not only are we a country that is fantastically passionate about football, but we've also got a terrific infrastructure including a plethora of options for stadiums located up and down the country.
I hope England make it to that stage of the competition but even if they don't, the semi-finals and final of the Euro's at Wembley this summer will be fantastic occasions for football fans to enjoy
If they are to be auditions for us hosting a tournament of our own, I have confidence that this summer can take us one step closer.