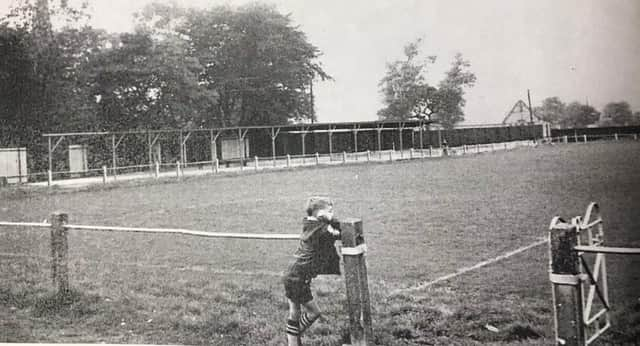 Church Lane has been hosting football matches for 100 years.
The Millers, formed in 1919, played their first game at the ground on September 17, 1921 against Coniston in the Manchester League, meaning this weekend's visit of Eccleshall will be the first of many occasions where that landmark date will be celebrated.
The match will see many former New Mills players attend, with the club attempting to find the oldest living former player possible to be part of the celebrations.
And press officer Chris Culkin says a number of other events are planned to mark the centenary of a ground known as one of the most picturesque in the area.
The New Mills team pictured just a couple of weeks after moving to the Church Lane ground in 1921.
He said: "The ground has a great history. When the first game was played, there were no dressing rooms at the ground and the players had to change at the Bull's Head public house at the bottom of High Street and walk to the ground for kick-off!
"Their first season was a success as the club finished third in the league and
were undefeated in league games played at home.
"Their only defeat was to local rivals Hyde United in a quarter-final cup tie which attract a record crowd of 4,500 spectators.
"We are now planning events including a past players' dinner and also a sportsman's dinner with guest speaker.
"We hope to involve the junior section in the celebrations too with some special matches, and the hope is to also arrange a friendly with a high-profile club some time before May.
"There will be a reunion match with former players turning out, and our historian Alan Jones is putting together a centenary brochure which will be available for purchase.
"A centenary pin badge is also being produced. We urge the people of New Mills to get involved where they can and keep an eye out for announcements regarding the events.
"It's wonderful to still have Church Lane as such a focal point for the town and its football so marking its centenary is going to be a great occasion, particularly with the team doing so well under Dave Birch and Mike Norton this season."