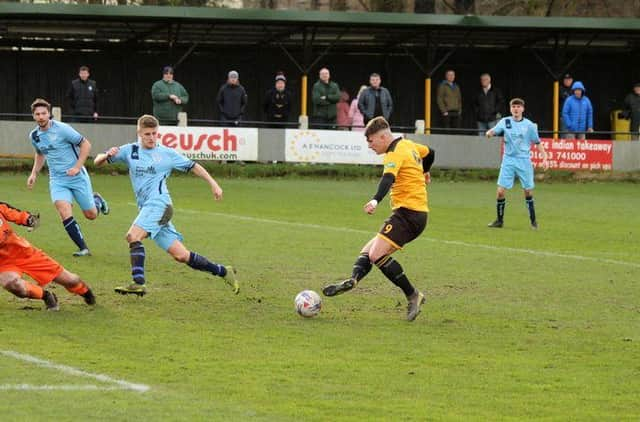 Benito Lowe scores for New Mills last season, which was declared null and void. Boss Birch is hoping to avoid a repeat.
Clubs from steps three to six of the National League System have until Friday to complete a Football Association survey asking sides for their preferred way of concluding the campaign.
Some of the suggestions from across the non-league pyramid include ending now and calculating positions using points per game, splitting divisions into smaller regionalised leagues, collating the points from last season and the current one and also expunging the results for a second year running.
"We had a meeting on Sunday and we're leaning towards trying to get the league finished in some way possible," Birch said.
"I don't think we're great believers in finishing as it stands on points per game.
"But if we can start playing again around March and play through to April, May - maybe June - and try to get as many games played as possible, we could look at it that way.
"That's the way we're going to go."
After rivals in the North West Counties League First Division South were robbed of promotion last season, Birch doesn't believe it would be fair to follow suit this term, suggesting it would be better to come to some kind of solution that includes promotions and relegations.
He added: "Me and Mike (Norton) as managers are ambitious and want to do well, and if we just null and void again it shows a negative attitude and that's not really us.
"We want to give it every chance to finish in the fairest possible way.
"Teams last year missed out on promotion, not ourselves, but other sides missed out.
"I know it's unprecedented times but we're in favour of starting playing in the next few months and playing as many games as we can."
Birch also dismissed suggestions for the current season to be settled via points per game as it stands.
"We've played six games and there's teams in our league who have played less than that.
"There's a team in the Premier (Bootle) who have played three games and won them, they'd get promoted that way. You can't relegate teams that way either.
"It's bizarre and I think it's something that has to be done fairly."