​Elliott's dismay after defeat to Bishop's Stortford
​Buxton had every reason to feel confident of a positive result from their Vanarama National League North visit to Bishop's Stortford last Saturday, but the form book counted for nothing as the home side ran out comfortable 3-1 winners.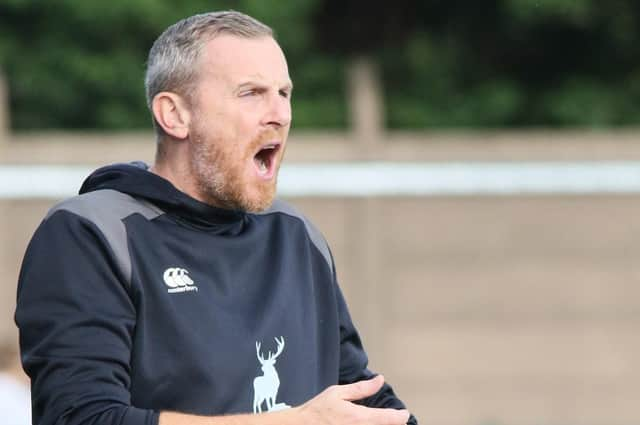 ​Having their first season at this level since winning the Isthmian Premier League, the Blues from Hertfordshire have been finding it tough and were on a long losing run, most recently 6-1 at Scunthorpe.
Conversely, the Bucks, with an unchanged side, entered Saturday's fray on the back of a 2-1 win against league leaders Tamworth.
The Bucks had the better of the early exchanges and were to dominate possession throughout, but without taking advantage.
When Tosin Olumefi's diving header made it 1-0 on the half-hour there was insufficient response from Craig Elliott's men and they went further behind from straightforward goals after 49 and 53 minutes.
Eoin McKeown produced the face saver for the Bucks, making it 3-1 with a far post diving header after 67 minutes.
Bucks boss Craig Ellliott did not hide his disappointment. He said: "I was shocked by our lack of response to their opener and the attitude of some Buxton players was just not what we expect.
"After having the best chances early on we didn't play well enough and the Blues deserved their victory. Their attitude was bang on, ours was not. We will have to improve to get anything from Tuesday's game."
On Tuesday travelled to full-time professionals South Shields, who were second in the table going into the game – played after this week's Advertiser went to press.
Next at home, on Saturday, will be Farsley Celtic with a 3pm kick-off at the Tarmac Silverlands Stadium.
Celtic sat just a point above the relegation zone ahead of the midweek fixtures, with just one win in their last five games.