Elliott rues late Buxton defeat at Scarborough
​Buxton boss Craig Elliott was disappointed not to have picked up a point at Scarborough Athletic on Saturday after falling to a late goal.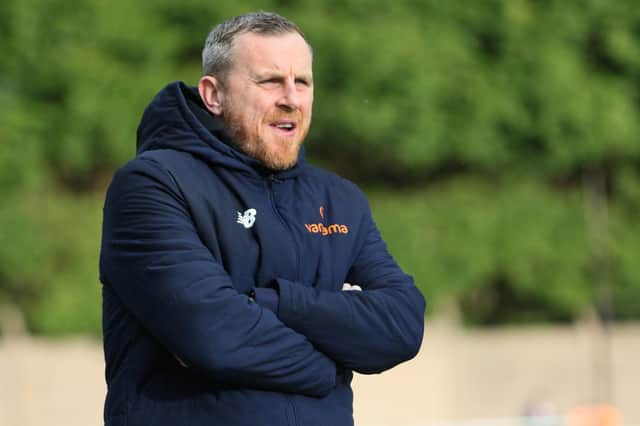 ​The game had looked set to be a goalless draw until the home side took advantage of a defensive lapse to strike with an 86th minute goal by substitute Harry Green.
The Bucks had deserved a point from what was a well-matched encounter by the seaside, largely played out in midfield.
Travelling fans made a noisy contribution, yet it was an otherwise quiet game with few chances. Danger man Diego De Girolamo had what seemed a good goal disallowed, two more shots blocked and another skimmed the bar.
Jake Hull and Luke Shiels went close but neither goalkeeper had a busy afternoon.
And Elliott thought a draw would have been the fairest result.
He said: "It wasn't a great game, always tight, and the teams cancelled one another out, but we lost out in a tight game. That's the way it is sometimes, we just have to roll our sleeves up and go again.
"I felt it would always be a good bit of play or a mistake that would get either team the win and fair play to them, they got the goal.
"It's a bit similar to when we played them last year actually when it was us who got the win.
"I'm disappointed we couldn't have got an away point. I thought we played well in the first half and were right where we needed to be at half-time. We didn't improve after the break, however."
On the disallowed goal, Elliott added: "You'd hope these things even themselves out over the season but the officials were poor today.
"That's how it is unfortunately and you've just got to put up with it.
"There's another chance to put things right at home on Tuesday. We've got a good home record and hopefully we'll be back on top by then."
The Bucks have three home games in a row at the Tarmac Silverlands, which started with Peterborough Sports on Tuesday, played after this week's Advertiser went to press.
Then Rushall Olympic are the visitors on Saturday 28th (3pm) and Tamworth on Tuesday 31st (7.45pm).