​Elliott laments Bucks' injuries after Farsley defeat
​Buxton boss Craig Elliott says he's keen to get injured players back and playing as soon as possible after they fell to a 2-1 defeat at home to Farsley Celtic on Saturday.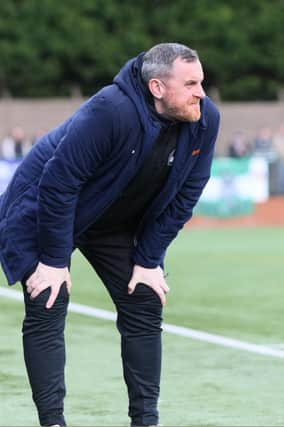 Elliott's matchday selection of players is getting harder, with the injured Josh Granite and Eoin McKeown, plus Jak McCourt (unwell) added to the absentee list last weekend and Sam Smart only partially fit.
Nevertheless, the Bucks deserved better than to go down 2-1. They dominated the first-half and had the better chances after the break.
The Bucks took the lead after 32 minutes when busily productive striker Diego De Girolamo netted from the penalty spot. Two defensive errors close to half-time let the visitors in for their goals and the chances of saving the game were made harder seven minutes into the second half, when De Girolamo, fouled from behind, was sent off for what the referee deemed to be the use of an elbow. That was his first dismissal in his five-and-a-half years with the Bucks.
Although not at their best, the ten men plugged away, looking for at least an equaliser, with stout efforts from lively Sam Osborne, Sam Minihan, Connor Kirby and Jordan Burrow.
Farsley had a man sent off for a second bookable offence close to the end of normal time but it was too late to be of help to the Bucks, who suffered their third league defeat in a row.
Elliott said afterwards: "It was frustrating. For the first 40 minutes we were excellent, then two sloppy goals and the sending off made it very difficult. I can't believe that Diego was dismissed for what happened.
"We need to get injured players back and roll our sleeves up to play with confidence, hopefully, with some of those injured lads available to us again. We've been throwing points away and that has to stop. I don't like losing football matches."
Next at the Tarmac Silverlands will visitors City of Liverpool on Saturday, in the FA Trophy Second Round, kick-off 3pm.​​​​​​​​​​​​​​​​​​​​​​​​​​​​​​​​​​​​​​​​​​​​​​​​​​​​​​​​​​​​​​​​​​​​​​