​Diego scores but is sent off in defeat
​Two Farsley Celtic goals in eight minutes just prior to the interval turned this National League North match on its head as the visitors took the points on Saturday.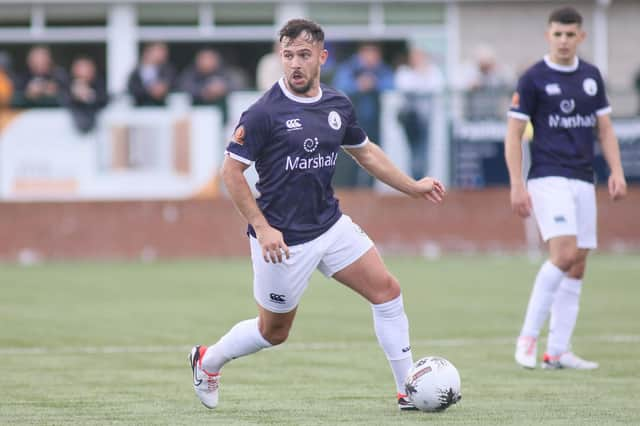 After Buxton had led through Diego De Girolamo's penalty kick, early in the second half the home scorer saw red for the first time in his five-and-a-half-year Buxton career, to make a recovery far harder.
There was thereafter much effort and some pressure on the visiting 'keeper who at times had all on to keep his goal intact.
At kick-off, 13 places but only three points separated the teams and the visitors' record shows their strength on the road with four NLN away wins already.
Undoubtedly the Bucks are currently ravaged by injury and were barely able to field a fully-fit 11 and had little ability to resort to the substitutes' bench when change could have altered the focus.
Buxton started well enough into the sun but a Farsley through ball created the first opening, forcing ex-Celtic 'keeper Max Dearnley to save as midfielder Branson fastened onto it.
The hosts responded with a passing move leading to Xander McBurnie playing a one-two with Sam Osborne before shooting high and wide.
Then McBurnie's wide-right free-kick skimmed the head of Sam Minihan at the near post in a mini-spell of home pressure, closely followed by a Max Hunt cross from the right. The 'keeper flapped at it and Smith's foul on Connor Kirby gave De Girolamo his opportunity, in the 32nd minute, from the penalty spot, with the striker netting expertly by wrong-footing Leban.
The Bucks did have a chance to double their advantage but De Girolamo slightly delayed a through ball for Osborne who ran on to shoot low from a narrow angle with Leban making a comfortable save.
That incident preceded Farsley's double-strike. Youmbi's good work on the left allowed Stevenson to equalise with a neat back-heel in the 44th minute, then, in the third minute of added time, midfielder Ryan Watson ran along the 18-yard line but turned to rifle a low shot inside the near post.
Buxton's situation worsened considerably in the 52nd minute with De Girolamo's harsh dismissal for the use of an elbow when illegally challenged from behind.
Manager Craig Elliott soon introduced striker Jordan Burrow but his team-mates couldn't take advantage of several examples of his deft head-work. Yet the hosts persevered. Osborne fired a 30-yard rising free-kick at Leban and Kirby fed the same player for a low, angled drive, again at the 'keeper.
The home winger indeed looked the most likely scorer and from a passing move his 19-yard curling effort landed on the net top.
A clear offside error by an assistant robbed Burrow of a follow-up after Minihan's power-drive from 25 yards troubled Leban, while the 'keeper parried Kirby's 30-yarder with difficulty.
Farsley were likewise reduced to ten men in the 88th minute as Branson went for a second yellow.
Yet it came too late to be of significant help to the Bucks whose attention will now switch to next Saturday's home FA Trophy tie versus City of Liverpool.