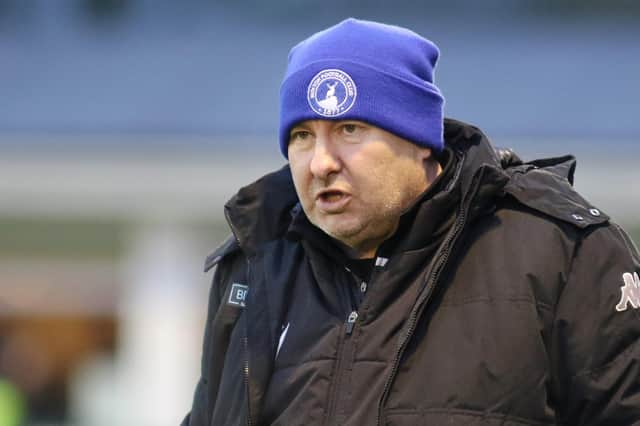 Buxton FC manager Gary Hayward
Hayward, who took over the first team reins in December, has overseen an upturn in results on the pitch leading the club out of the drop zone.
And the Bucks boss is confident his new-look side has what it takes to escape the clutches of relegation from the BetVictor NPL Premier Division.
"We're going game-to-game," said Hayward, speaking prior to Saturday's 1-1 draw at table-topping South Shields.
"We're five unbeaten in the league and I'm just hoping to turn a few of those draws into wins and then it'll keep the wolf away from the door.
"I think it's coming. The squad's working really hard and not leaving any stone unturned. We're giving everyone a game."
And added: "I'm always looking for better players. If I think we can get a better player in then it'll make the team better.
"I believe we'll stay up. I think it'll go to the wire but I think we've got enough in the tank to stay up.
"Once we get a good pre-season in us and a really good group of players to come into the group next season, I think we'll be challenging."
Hayward has brought in a handful of new signings to help Buxton's cause after quickly identifying where he wanted to improve the squad.
"We had to assess the whole squad when we came in and I didn't think the squad was fit enough so we've had to work on more shape and discipline.
"The lads who have come in and played with the lads that are here had that with me before when I was at Hednesford, or had worked with me before.
"They knew what kind of mindset I was after and that's why we've integrated quite well.
"At the minute we're going for slightly more experienced Step 3 and Step 2 players because we're in a hole.
"Those are the kind of players that I believe can keep us up. Next season, we can regroup and start again," he said.
The Bucks were frustrated by the weather on Tuesday night when their league game against Warrington Town was abandoned due to heavy snow on the Silverlands surface.
The visitors - battling it out for a play-off position - had taken a narrow 1-0 lead through Olufisayo Adarabioyo's 27th-minute opener before the driving sleet and snow persisted.
Buxton are home to bottom side Stafford Rangers on Saturday.