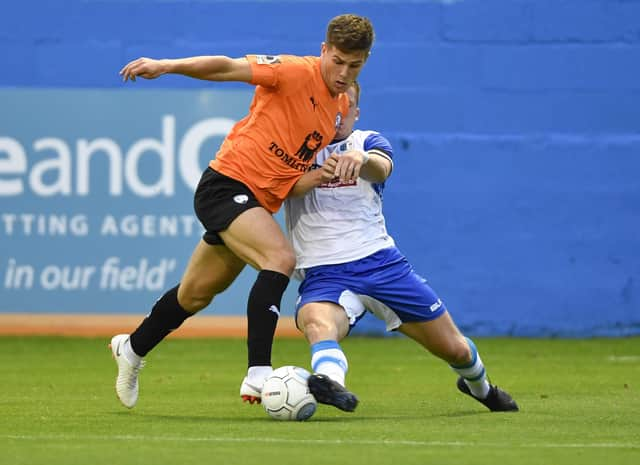 New Buxton defender Josh Granite in action for Barrow against Chesterfield.
Granite has joined the Bucks on a two-year deal after being released by National League champions Barrow.
And the Buxton boss believes Granite, who turned down National League offers, is exactly the type of player his side need to help make their promotion dreams reality.
"He is a leader and a winner. He has had two promotions in three years and that is the mentality we are looking to bring in," he said.
"He is a good lad. We gave him a two year deal because we want lads like that around the club.
"He is what we want to see at Buxton. We told him what our plans were and he liked what he heard.
"We got a bit of a shock when he rang us and said he wanted to come to Buxton.
"It wasn't about money or anything for him, he was impressed with how we wanted to build the club and take it forward.
"We told him we had a three year plan to get into the National League North. He had a few clubs after him but he sees Buxton as a club that is going places and that's why we got him."
Granite will be joined by former Chesterfield man Sam Wedgbury following his release from the Spireites.
"He said he wanted to come to Buxton after his release," added Hayward.,
"We sat down and had a chat and that was it, he joined straight away. He knows what it's about at a higher level and has good experience."
But Hayward knows it will not be easy to achieve promotion despite the quality of players who have joined in the close season.
He added: "If we are fortunate enough to get promoted in the next couple of years we don't just want to sit there, the chairman would like to see if we can go again.
"We know it is not going to be easy, we are not bragging about how we are going to win the league."
A weakened Buxton side, which featured a number of development players, began their pre-season campaign with a 2-1 defeat at Carlton Town.
It left Hayward a little underwhelmed by some players' attitude.
"The lads were under-par, they were not good enough," he said.
"I just think some didn't try because they didn't like the pitch. I have to knock that out of them now and get the mindset right for the start of the season.
"It's ok playing at Buxton on a £1m astro-turf, but you need to do the other side of it
"We are going to some bad places now so we have it right for the season.
"If you want to achieve things you have got to do the other side of it away from home."