​Buxton athletes in form at Goyt Valley Challenge
​Buxton AC athletes had perfect conditions for the Goyt Valley Challenge, an event based at Buxton Community School and taking runners and walkers down through the Goyt Valley to as far as Kettleshulme.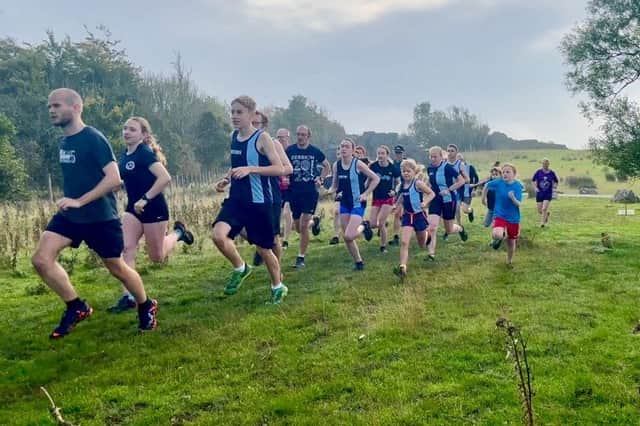 ​With a choice of two courses, four Buxton athletes chose the 14.3 mile course with the first back, in 17th place, being Paul Markall with a time of 3:04:12. Jasmine Reeves was next in 19th place followed by Mike Thompson in 64th place and Leila Thompson 65th.
Opting for the 27-mile route, Sam Willis had a great run to finish in sixth position overall and taking the honours as first female. She was chased in by David Fryer-Winder in seventh place whilst Katie Rolfe was 16th, Sheila Bradley 58th, Tracy Gregory 70th and Rachel Dowle 150th.
At the Curbar Commotion Fell Race, a challenging ten-mile fell race with 1400ft of climbing, two Buxton runners competed in a field of 284 runners. Neil Evans was 83rd in a time of 1:29:50 and Bill McDonald was 183rd in a time of 1:45:39.
Second claim club member Will Tighe, who also runs for Chesterfield Athletic Club, was fortunate enough to get the opportunity to take part in the Šmarna Gora Race in Slovenia, a race attracting many top athletes due to being part of the series of races that form the Valsir Mountain Running World Cup. Will managed to hold his own in the race to finish in a very respectable ninth position.
Buxton Athletic Club held its annual club cross country race at Grin Low with valuable points in the club's cross country league being up for grabs. Taking maximum points was Jake Fearn Senior in first place followed by Matt Rolfe, Callum d'Souza, David Reeves, Connie Jenneson, Erin Colebrook, Rob White, Mark Jenneson, John Colebrook, Rebecca Cudahy, Joanne Cudahy, Bev Golden, Duncan Bryant, Pete Bailey, George Webb and Tracy Gregory. The junior race was won by Evie Willis, followed by Georgia Cudahy, Emma Roberts-Dinsley and Sophie Roberts-Dinsley.
Two Buxton athletes travelled to Chester to take part in the Chester Marathon. Rebecca Corbett completed the 26.2 mile course on 3 hours, 46 minutes and 55 seconds whilst Duncan Campbell completed his first ever marathon in 4:03:59.
The club had a great turnout of both juniors and seniors in the first match of the Manchester Area Cross Country League held at Heaton Park.
In the under 11 boys Oliver Ball came 11th and Marshall Hibbert-Layland came 34th. Representing the club for the first time in the under 13 boys, Freddie Cresswell was 11th whilst George Cottrell came 69th. In the under 13 girls Katherine Bennett came 44th and Robyn Fisher came 46th. Competing in the under 15 boys Will Aspinall was 42nd and Jonty Brown 48th whilst, in the under 15 girls, Flo Brown was 38th.
Heather Haggis led the team home in the senior women's race finishing in 106th place whilst Kate Brown was 190th, Heather Fryer-Winder 197th and Tracy Gregory was 254th. In the senior men's race Rob White was 170th, Callum D'Souza 180th, Andrew Stokes 182nd, Jon Sewell 220th, Andy Lidstone 228th, Neil Parsons 264th, Paul Markall 364th and Will McDonald was 378th.
Two Buxton athletes had excellent runs in the Manchester Half Marathon. Out of 12,911 finishers, Ed Diamond finished in 13th place with a time of 1:08:32, smashing the club's senior male record whilst Wendy Higginbottom claimed the club's ladies over 55 record by finishing 1066th in 1:32:25.
Ruth Gowers travelled to York to take part in the Yorkshire Marathon where she finished with a very respectable time of 3.48.57.