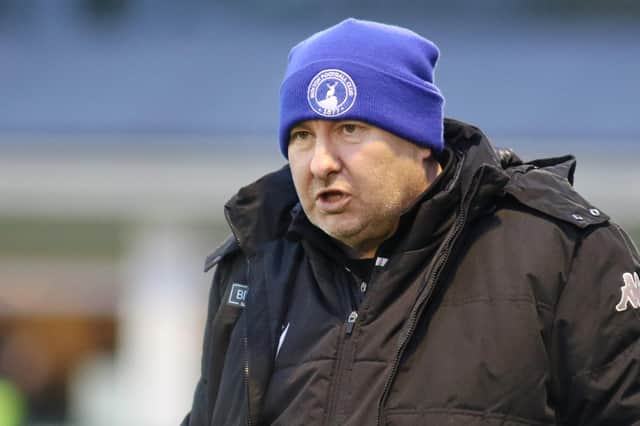 Buxton manager Gary Hayward. Photo: Jason Chadwick
New Government guidelines mean a limited number of supporters are currently allowed into stadiums for games from steps three to six of the National League System.
"As long as everyone stays safe and keeps on social distancing then it's great," said Bucks boss Gary Hayward.
"I've been getting a lot of messages on social media from fans saying they want to watch the team play.
"It's good for them as they care about the club and I like to see the supporters in. Obviously, it's good for everybody and non-league clubs all over."
Hayward is hoping that there may be a real hunger for live sport again from the public following lockdown, and wants to make the most of it.
He added: "Last year we had a set of supporters, a younger teenage crowd, and they like to bring the drum and put the flags up and it's great to have that.
"Some of the older lads like to stand by the dug-out, cheer the lads on and give me some stick when it's not going right, but it's what it's all about.
"I'm pleased supporters are allowed back. I think people will come out in droves and if we set off well and get the fans behind us I think we could add quite a few bums on seats and get the town behind us.
"We've got good players and want to hit the ground running. Hopefully, the lads perform and we get a few more fans in."
New Mills boss Dave Birch added: "It's absolutely fantastic. We really want the town to get behind the team this year.
"I think it'll be brilliant and if the people of New Mills come and watch us, I think they'll come back.
"it needed to be done as safely as possible but non-league cant survive without people coming through the gate. It's as simple as that."
Buxton have bolstered their squad with the arrival of former Leeds United and Sheffield United defender Matthew Kilgallon. James Hurst has returned to the club and Nico DeGirilamo has re-signed.
Diego De Girolamo (2) and Tom Elliott were on target as Buxton beat Eastwood 3-0 in a friendly on Saturday.