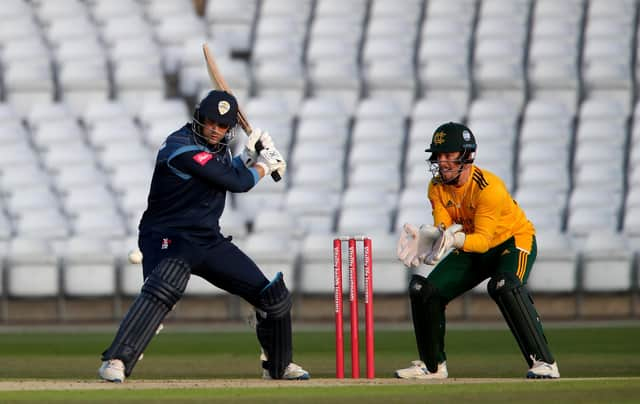 Billy Godleman bats against Notts Outlaws in the T20 at Trent Bridge. (Photo by Alex Pantling/Getty Images)
The fixtures for the 2021 T20 campaign were released earlier this month, with the explosive action set to return to The Incora™ County Ground in June.
Having played every game on the road in 2020, as the club supported the return of international cricket amid the coronavirus pandemic, this year will be the first time that Derbyshire have played on home soil since 2019.
"It's really exciting now, with the Twenty20 fixtures out and the prospect of having our supporters back," said Godleman.
"I know that everyone was delighted to get out there last year and just play some cricket, but we really did miss all of our Members and supporters, so hopefully, if it's safe to do so, we can play in front of crowds again.
"We played all of our games away from home last year, which was done for all the right reasons, and we felt so fortunate to be playing anywhere, but to play in front of our own supporters, is something that we really missed last year."
The Falcons will face Notts Outlaws in the East Midlands Derby at The Incora County Ground on Friday 25 June, while Twenty20 action returns to Queen's Park, Chesterfield.
"The Notts game is the one we all look for when the fixtures come out," added Godleman."It's a local rivalry, which is played hard but fair, and we know how much it means to our community to win those games, so we're really looking forward to facing them in Derby again."