Buxton CC captain: We're all raring to go
Buxton first XI captain Andrew Slater says the whole club is raring to go ahead of the new county cricket league season which begins this weekend.
Wednesday, 14th April 2021, 9:58 am
Updated
Wednesday, 14th April 2021, 4:10 pm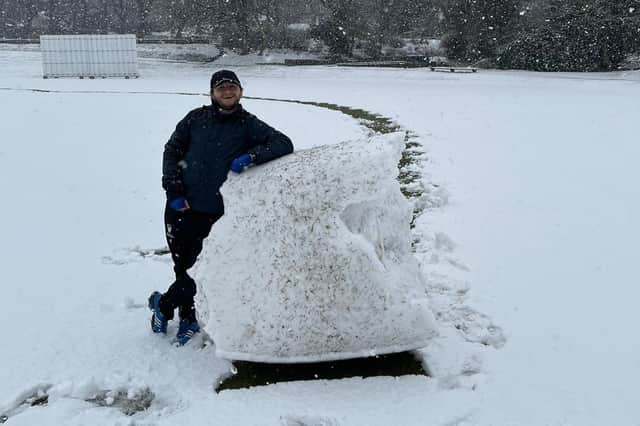 .Cricket and snow are a rare and bad combination. Both of Buxton's scheduled friendlies were cancelled due to the white stuff last weekend. Photo: Buxton CC.
This season will see Buxton have four teams playing in the Derbyshire County Cricket League for the first time, with the firsts competing in Division Four North.
And despite pre-season plans having been interrupted by a combination of national lockdowns and then the weather – snow forcing the cancellation of two friendlies last weekend – Slater says the teams are all well prepared.
He said: "It's a bit similar to last season in that we didn't have long to prepare, but we're in good shape and hopefully we can get a full season in this time.
"On a fitness level, everyone is looking good as we had a competition on Strava between the four teams to see who could accumulate the most miles and also had some really good outdoor training sessions too.
"Everyone's been excited to see each other and we can't wait to get playing again."
Slater says there is a strong desire for Buxton to secure promotion in 2021, having showed promising signs last year.
He said: "We looked really good and having watched a lot of cricket in higher divisions too, we're confident we are good enough to get to those kinds of levels.
"The second XI have had a lot of success over the last few years but now we feel it's our turn!
"We've got a couple of new faces on board which is important as it helps us have good strength across the first and second team, meaning we can rotate as necessary.
"In fact, overall, numbers are really high at the moment, hence the creation of the fourth XI, so that's been a real positive."
Another plus to have emerged from the last year has been the formation of a women's section at the club, with two teams now playing regular soft ball cricket with a view to competing in hard ball leagues before too long.
Slater added: "We've now got two women's teams and it's been brilliant in that they're driving the club single-handedly in a direction it's never been before, so it's been great to see that new page created in the club's history."