Friends of Buxton Station group shortlisted for awards
The Friends of Buxton Station group (FoBS) have been shortlisted for five national awards.
Wednesday, 8th September 2021, 5:15 pm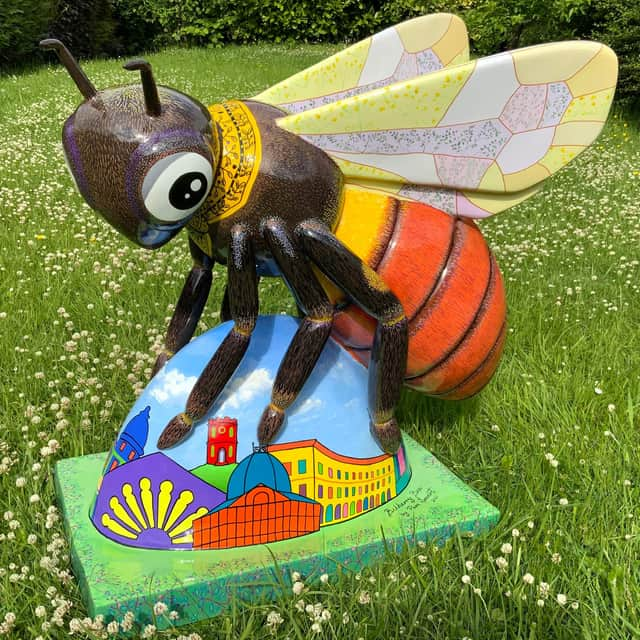 Billie the Buxton Bilberry bumblebee
The group, which has also recently been awarded the prestigious Queen's Award for Voluntary Service, is in the running for more accolades after being shortlisted in the Community Rail Network's national awards.
FoBS are shortlisted in the following categories:
*Involving Young People – for their work with pupils at Buxton Junior School to plant wildflowers to provide food for hungry bumblebees;
Artist Pam Smart with Billie the Buxton Bilberry bumblebee
*Station and community arts - for the group's legacy artwork projects linked to their work to help bumblebees including a large fibreglass sculpture, Billie the Buxton bee and an intricate mosaic of Lightwood, home to our rarest bees.
*Photographic competition - two images showing different projects.
*Heart of the community - the group have been recognised for their work outside the station environment, particularly their role in the alternative wells dressing during the cancelled carnival in 2020.
*Outstanding volunteer - FoBS Chairman, Dave Carlisle identified as a prime mover.
FoBS have previously won awards for their project to light up the station's Grade II Listed fanlight window (2016), best station enhancement category for the installation of a defibrillator inside an old red phone box (2018) and (2020) it's your station platinum award given for wider community work during the pandemic.
FoBS chairman Dave Carlisle said: "Of course I'm honoured to be considered an outstanding volunteer, but more importantly the whole group are pleased to be short-listed once again. We are immensely proud of our station and our voluntary work in the community, being particularly delighted that our various projects in support of Buxton's endangered Bilberry bumblebees have been recognised."
The award winners will be revealed in December.