Volunteers spend thousands of hours supporting isolated people in the High Peak during pandemic
Friendly volunteers have made more than 1,500 hours of telephone calls to isolated people within the High Peak during the pandemic.
Wednesday, 9th December 2020, 10:21 am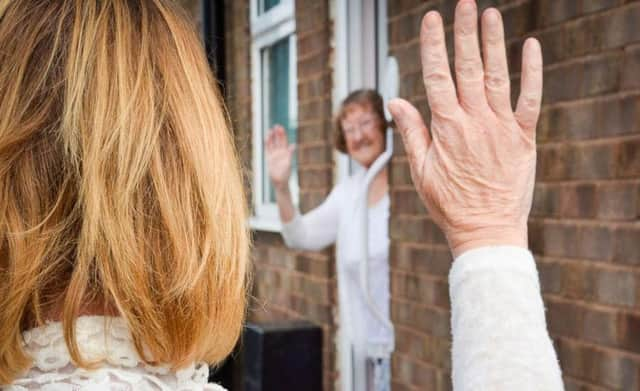 An army of volunteers has been proactive in helping people confined at home.
Volunteers from the New Mills and District Volunteer Centre have been proactive in helping people confined at home through this challenging time, involved in anything from shopping, prescriptions deliveries, telephone check-in chats, transport to medical appointments, online exercise classes, walking dogs and gardening. Together they have clocked up 1,559 hours of phone time.
Volunteer Gill Christian said each friendship becomes as rewarding to the vounteer as the client.
She said: "Befriending people in our community has proved a truly enriching experience.
"Recently we have lost some good friends and here at the centre we treasure all their wonderful memories."
Gill fondly remembers her friendship with Connie Brodie, who recently passed away.
She added: "My friendship with Connie has been a privilege and a joy. She was such an interesting and lovely person to get to know, and we were able to share chats, laughs and visits together."
Another volunteer, Glenys Millings, also has fond memories of Connie.
She said: "The first time I met Connie she greeted me with a lovely smile and that's how I'll always think of her.
"The time I spent chatting with her always flew past as she was interested in so many things from the books that she'd read to what was happening in the national news and locally."
Connie's sister, Edith Hanford from Furness Vale, donated Connie's digital book 'e-reader' to the centre.
Glenys added: "This equipment is brilliant, giving people who are partially-sighted the confidence and freedom to experience reading books again.
"The book reader has now gone full circle and is being enjoyed by a new befriending client in Chapel, who has suffered numerous strokes and falls, which has also affected his eyesight.
"E-readers are very costly, so thank you to Connie someone else is now able to lose themselves in the amazing world of books again."
if you would like to get involved in volunteering, email [email protected] or call 01663 744196.