£90,000 play area in High Peak will open soon
Children will soon have a new play area in which to burn off energy.
Thursday, 13th August 2020, 2:05 pm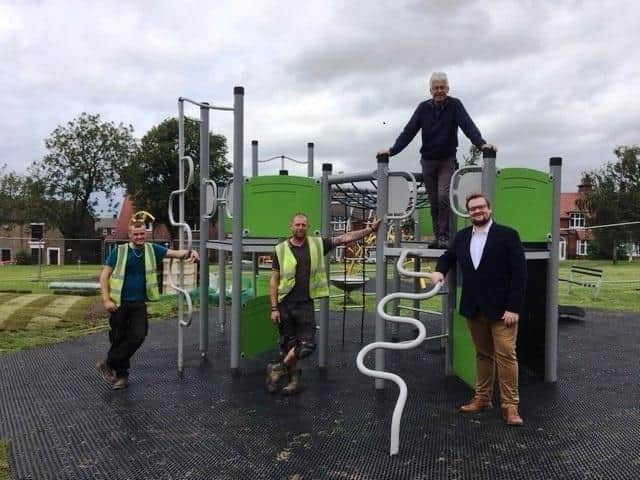 Councillors Damian Greenhalgh and Graham Oakley with the contractors.
Contractors are putting the finishing touches to a £90,000 new improved play area in Whitfield.
Councillor Damien Greenhalgh, deputy leader of the High Peak Borough Councill and executive councillor for regeneration, Ttourism and leisure, joined ward councillor Graham Oakley at the site to review the works.
Coun Greenhalgh said: "The new playground area is really coming together now and it was great to be able to see how far it's come in a few short weeks.
"I was delighted for this investment to be one of the very first decisions of the new administration when we came in to office last May.
"Ward councillor Graham Oakley had raised the poor state of the equipment for some time and people in Whitfield clearly deserved better.
"Taken with the impact of Covid, with many of us coming to rely much more on the play facilities and open spaces in our neighbourhoods in recent months, these fantastic new facilities are going to be such an asset for the local community.
"We look forward to being able to celebrate this timely investment in their amenities with the local community at the right time. In the meantime, the play equipment should be open and in use soon for everyone to enjoy."
High Peak Borough Council worked with Whitfield community groups on designs for the play area. Playground specialists HAGS were chosen to carry out the scheme and work began in July