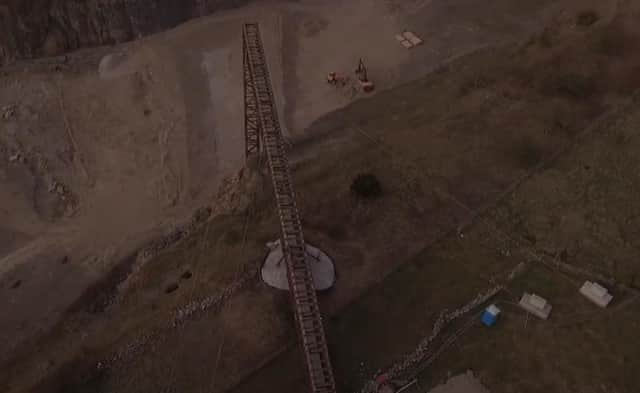 A screenshot from Phat Chance FPV's YouTube video.
The below video – which was uploaded to YouTube by a user called Phat Chance FPV – gives a spectacular bird's-eye view of the site.
Phat Chance FPV described it as a 'really nice location' but said unfortunately there was no sign of Tom Cruise who plays action man Ethan Hunt in the Mission Impossible films.
Over the last few weeks, work has been taking place to construct the eye-catching set at the old quarry – and rehearsals, filming and site clearance are expected to be complete within the next month or so.
The Sun has reported that Mr Cruise has been 'forced to call security to tackle intruders' at Darlton Quarry.
According to The Sun, a film insider said: "The set is so large and open that it has been impossible to close it all off.
"So trespassers have been getting in and attempting to scale the rigs and equipment set up for the stunts.
"It is a health-and-safety nightmare.
"Police were called to one incident last week and then Tom was forced to take action when it happened again.
"This time two intruders were spotted clambering up the set, leading to security rushing to get them down.
"The set looks exciting and these people think it's funny trying to get pictures of themselves there, but they don't realise how dangerous it is.
"Extra security might have to be drafted in.
"Along with it being a safety nightmare, Tom and the team don't want any delays to filming."
A notice has been put up about temporary road closures near Darlton Quarry.
It states Middleton Lane will be shut from May 14 to May 16 and from May 28 to May 30.
The road will be closed for a distance of 600 metres between the junction with Black Harry Lane and Highfields Barn.
News of the filming has brought excitement and a buzz to the area.
Pete Grafton, owner of Toll Bar Fish and Chips in the village, said: "Everybody's talking about it.
"Plenty of people have been visiting the area which is good for local businesses."
Mission Impossible 7 is expected to be released in May next year.