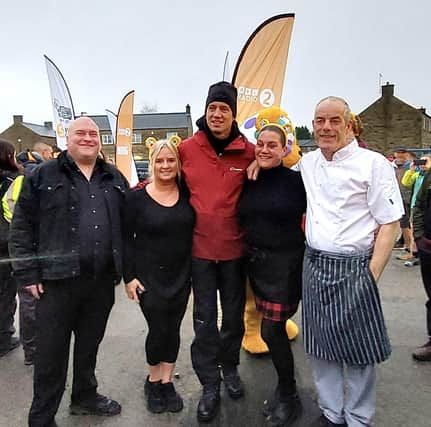 Hundreds turned out to cheer Vernon Kay on as his ultra marathon passed through Hope Valley
TV and radio presenter Vernon Kay has just completed his ultramrathon for Children in Need and here are some pictures of him passing through the Hope Valley.
Published 17th Nov 2023, 15:11 GMT
Updated 21st Nov 2023, 10:31 GMT
Rick Ellison and the team at the Old Hall Hotel in Hope welcomed Vernon around 8pm on Wednesday.
More than 400 people came to cheer him on and welcome to the village.
Rick said: "It was a fantastic atmosphere throughout, and it was amazing to see dozens of people giving handfuls of cash to the Children In Need Team. "Although Vernon was clearly absolutely shattered, his genuine kind personality shone through, and he made time to speak to as many people as possible, taking selfies along the way."
After Vernon disappeared for his leg massage and ice bath, the team then got ready for the arrival of The One Show to have breakfast with the BBC Children In Need team at 6am.
Rick said: "At Breakfast, Vernon was clearly exhausted but was in good spirits. He said that he sometimes drives from home to New Mills and back, and he was talking about how long it feels when he's driving.
"When I heard that he had been struggling yesterday, I thought back to our conversation, and it made me realise just how far a journey he's done. I'm ten years younger than him, and I definitely couldn't do that.
"Both him and his team were fantastic."