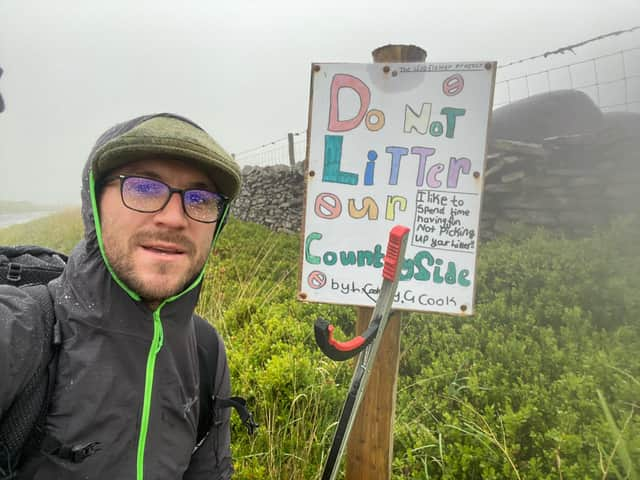 Luke Cook has raised nearly £3,000 for the Kinder Mountain Rescue Team through a litter pick.
Luke Cook and his family often go on litter picks and have drawn up signs to encourage people to take their rubbish home with them.
Fell runner Luke is so full of admiration for the valuable work done by the mountain rescue team that he decided to do a round-the-clock litter pick to raise cash for the charity.
He set off in the rain at 6am on a Saturday earlier this month to pick up litter all day all night before ending in Buxton at 6am the following day.
Upon completion of the challenge, Luke said: "Litter picking around towns and link roads was a much bigger job than I initially anticipated, and mentally draining in the night with my headtorch. If we all do our bit though the world will be in a much better state."
As with many small charities, Kinder Mountain Rescue Team has seen a sharp dip in income this year. Many of its fundraising opportunities cancelled because of the pandemic and collection boxes empty behind closed pub and cafe doors.
It costs nearly £40,000 a year for volunteers to run the service, which is funded almost entirely by donations from the public. The Kinder group is one of seven mountain rescue services in the Peak District National Park which are an essential part of everyone being able to enjoy the countryside safely.
Luke, who lives in Marple Bridge, said: "As a fell runner, I have huge admiration for the work of the Kinder Mountain Rescue Team who offers assistance 24 hours a day, 365 days a year."
He set himself a fundraising target of £3,000 for the rescue service but at the time of writing had exceeded that by £463, thanks to the 196 supporters on his JustGiving website page.
According to Keep Britain Tidy, more than two million pieces of litter are dropped daily in the UK, causing harm to wildlife and habitats. It can take years to degrade, while dropped food attracts vermin and pigeons.
Street cleaning costs taxpayers more than £1 billion a year.