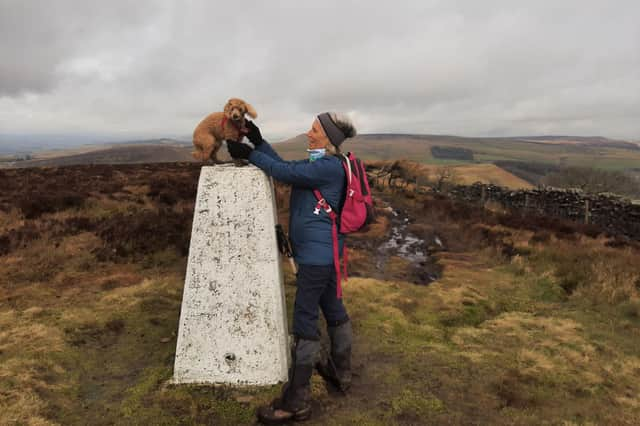 Group member Cathy Riddington and her dog Rupert.
The Rambling Readers plan to walk an overall distance that equates to a journey from Lands End to John O'Groats, and then even further to the Faroe Islands, in support of Buxton and High Peak Samaritans.
The determined walkers aim to raise £3,000 for the charity.
Cathy Riddington, of the Rambling Readers, who originally met through a local reading group, said: "We are a small Buxton-based group enjoying regular socially-distanced walks.
"We know that fresh air, exercise and companionship are having a positive impact on our wellbeing.
"From our professional lives and our volunteering, including Samaritans, we are acutely aware of the importance of mental health support."
The group has already raised £1,200 for the Samaritans – the equivalent of the cost of training and supporting six new volunteers for the branch.
Cathy added: "We are all painfully aware of the mental impact of this pandemic on individuals in terms of stress and uncertainty, financial crises, powerlessness and relationship issues.
"Samaritans are on duty 24/7 and face a constant struggle to answer all the calls they receive. Reaching our target of £3,000 would be a massive boost to the capacity of the Buxton and High Peak Samaritans branch to provide support to callers."