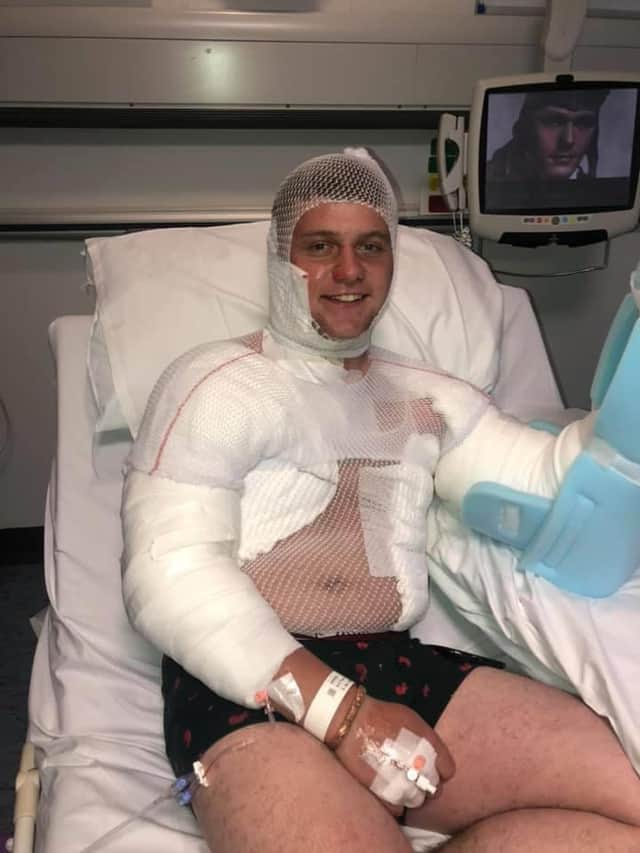 Scott Goodwin in bandages in the early days of his hospital stay before the skin graft operation.
Back in May Scott Goodwin, 20, had arranged some branches and leaves in a pile ready to burn after doing some tree clearance at the farm where he works near Buxton.
Unbeknown to him, someone had added a bag to the pile and its thought the bag contained a gas cannister or some sort of highly flammable liquid.
When he lit the pile he remembers hearing a loud bang and seeing a ball of flame shooting towards him.
Instinctively, his arms went up to protect his face, causing his arm and T-shirt to catch fire.
Thinking quickly on his feet, Scott dived into a nearby water trough to extinguish the fire, before managing to drive himself a mile back to the main farmhouse to get help.
He said: "I don't remember feeling any pain or anything. I just remember feeling really shocked.
"I ran to the trough and jumped in to submerge as much of my body as I could.
"My local hospital showered me and wrapped me up and then sent me straight to Wythenshawe Hospital in south Manchester, because it has a specialist burns unit."
Before his journey to Wythenshawe, Scott's cousin Ben, 36, and Ben's wife Laura had received a message about the accident and rushed to the hospital with his mum Karen to see him for a few seconds before he got in the transfer ambulance.
Laura said: "We didn't know it was a burn at that point, we just knew Scott had been in an accident.
"To find him like that was a shock. He'd only been at our house the night before playing with our kids Harry and Grace. He'd let Grace paint his nails and they were laughing and joking together. Then we saw him covered in
bandages wondering just how serious it was going to be.
"You just think the worst and I couldn't believe what had happened. We were all really worried."
Scott was sent to Wythenshawe Hospital - a 50 mile trip from his home – as it has a number of specialist fields, including burns and plastics.
Sadly Scott's recovery at Wythenshawe Hospital was hindered by a stubborn infection, which wasn't clearing up. He was taken down to theatre for a skin graft on a number of occasions but was found to still have the infection, meaning it would be too dangerous to proceed with the surgery.
After numerous tests, medics were able to diagnose Scott with salmonella, which they think may have been contracted from the water trough.
Laura added: "It was absolutely horrific – he had three blood transfusions in the hospital and because of Covid we weren't allowed to go and see him.
"That was really hard for us all, because we're such a close family. Ben and Scott are more like brothers than cousins and the whole family found it a
"The staff at Wythenshawe were just amazing with him though and I know that really helped lift his spirits.
"But each time he went down to surgery he mentally geared himself up for the operation only to wake up and find it still hadn't happened. So I know that was really tough for him.
"Eventually he did get the surgery and they were able to take skin from his thigh to graft onto his arm."
But then more bad news was to come, when Scott and Ben's granddad died. He had been suffering from dementia but sadly died from Covid-19 related symptoms.
The family didn't think it was right to tell Scott about the death over the phone, so hospital staff allowed them to visit and tell him in person.
They arranged for a visit on the June 13 to tie in with Scott's mum Karen's birthday – so the occasion could also be a happy one.
Scott said: "When they told me I just felt like things just kept getting worse. We're really close as a family so losing my granddad while I was in hospital was really awful. I was just gutted.
"I was also in a lot of pain. The burn itself was painful but I found the skin graft from my thigh hurt a lot more.
"Thankfully a few days after my family visited I was allowed home and I was so grateful to be back.
"It's been a real pick-me-up to have all my family around me again."
Although he hasn't returned to work full-time, Scott has been making a good recovery and has been able to spend a few hours seeing his work colleagues, as well as playing with Ben's children Grace, five, and eight-year-old Harry on the farm Ben and his wife Laura run.
He said: "I can't straighten my arm out completely yet, but I'm having physiotherapy and I'm slowly getting there.
"It is still sore and it blisters up sometimes. They think that eventually I'll need to have another operation to cut my skin so I can straighten my arm fully again. But for the moment it's just the physio."
As a thank you for the support Ben received, the family hosted a 'Tractor Run' in and around Buxton for Wythenshawe Hospital Charity earlier this month.
Around 200 people attended the event, raising more than £6,300.