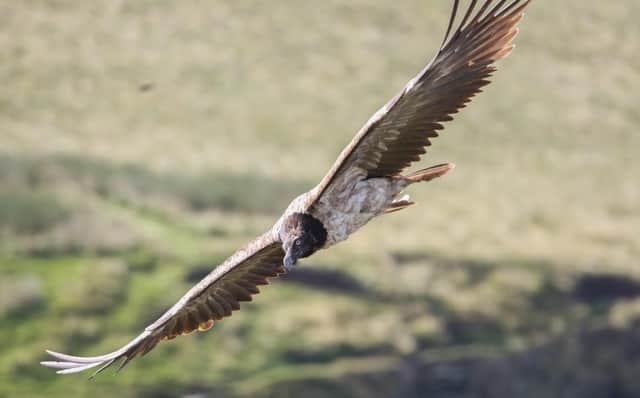 Bearded vulture in flight over the Peak District National Park. Photo by Austin Morley.
Wildlife-watchers have been flocking to catch sight of the bearded vulture which has been spotted flying over Buxton and roosting on Howden Moors, near Sheffield.
It's only the second time that the species has been sighted in the UK.
Sarah Fowler, chief executive of the Peak Park authority said: "The arrival of a bearded vulture to the Dark Peak has become a source of wonder and excitement in recent weeks - not only for those who carry a passion for nature, but others who simply wish to marvel at a bird of prey larger than anything ever witnessed in our almost 70 years as a National Park.
"The vulture's appearance at a time when many of us were taking the first steps back into nature since lockdown has no doubt added to its popularity as a 'must-see' for wildlife watchers.
"The fact the vulture has appeared confident to remain within a relatively modest area of the Peak District is testament to all those working as custodians of our protected landscapes; from the National Trust and Derbyshire Wildlife Trust, to local volunteers, landowners, gamekeepers and land managers who have all positively acknowledged the vulture's ground-breaking presence and supported its wellbeing."Sarah urged those who were hoping to catch a glimpse of the bearded vulture to park safely, plan their route carefully and always have the bird's welfare as its top priority.
She said: "Spending a penny, or a pound in our local communities will also help our Peak District businesses to continue to build their resilience against the effects of Covid-19.
"Witnessing the return of the osprey, white-tailed eagle and red kite to UK skies has in turn shown the multi-million pound economic contribution these species can make through nature-based tourism."
"We still have some way to go to achieve the same recognition for our native birds of prey in the Peak District, but this recent breeding season has shown the green shoots of recovery continue to grow, with species such as peregrine and goshawk in the Dark Peak nesting successfully across multiple locations."