1950s Buxton singer makes special return to opera house where she fell in love
There was a VIP visitor to Buxton Opera House last weekend as a 92-year-old woman who grew up in Chelmorton made an emotional return to the stage where she performed for the Festival of Britain and first met her late husband.
Watch more of our videos on Shots! 
and live on Freeview channel 276
Visit Shots! now
Margaret Askew was accompanied by daughters Sue Cooper and Margaret Ashworth as they took in the matinee performance of The Land of Might Have Been on Saturday, July 15.
While she moved to Staffordshire when she married, Margaret had remained close to her farming family in the High Peak and returned to help out in the fields most summers, but this was the first time she had been back to the opera house since 1956, and the venue staff treated her to a backstage tour.
72 years drifted away as Margaret trod the boards and retraced her steps as a young woman in the title role of Ann Tregenna in 1951 – Buxton's contribution to the national celebration of British culture and its post-war revival.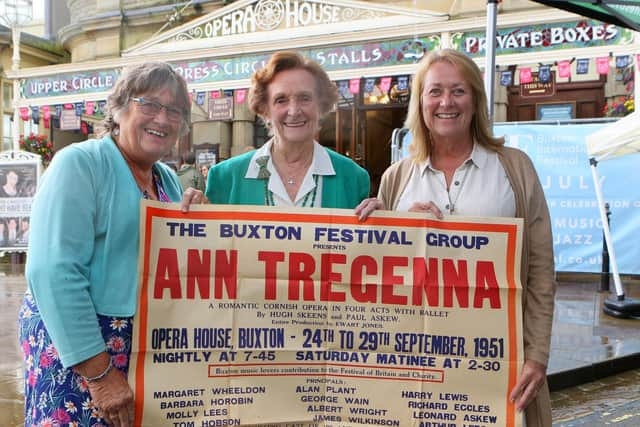 Speaking on her mum's behalf, nurse Sue, 59, said: "Mum didn't really know why her and dad never came back to the opera house but she felt they would have done if he was still alive. They were devoted to each other, and unfortunately dad died in a tragic gliding accident 25 years ago.
"She had talked about visiting Buxton during festival week and kept saying she would like to go back to the opera house. I looked at what was on and she really likes Ivor Novello so we went for that. My sister lives in Somerset and came up especially."
Sue added: "Mum really enjoyed the performance and absolutely loved going on stage and back stage. Even at the age on 92 she led the way up three flights of stairs to look at all the dressing rooms. She did say though that it had been a lot easier to run up and down the stairs in her twenties.
"It stirred up lots of lovely memories but as she was probably the youngest in the opera group she realises that the majority of people will now have died. I felt very proud of mum and everything she did. I got quite emotional watching her enjoy the whole experience."
Ann Tregenna was a local production written by Paul Askew, a Buxton councillor at the time and an accomplished musician who had worked for BBC radio in London.
The romantic light opera with a cast of 120 told a story of 18th century Cornish fishermen brothers who dabbled in smuggling, and their sister who is kidnapped by a Spanish trading boat and sold into slavery in Zanzibar.
Paul was also the father of Leonard Askew, cast in the role of the Arab Auctioneer and the apple of Margaret's eye from the start – she describes it as "love at first sight."
Sue added: "My mum adored Paul and he introduced her to some of the big band leaders like Joe Loss. She has told us that she spotted Leonard as a new member of the group as he walked into the auditions and was asking who he was. He looks very serious in the photos, but that was not his character at all. He was vibrent and fun loving.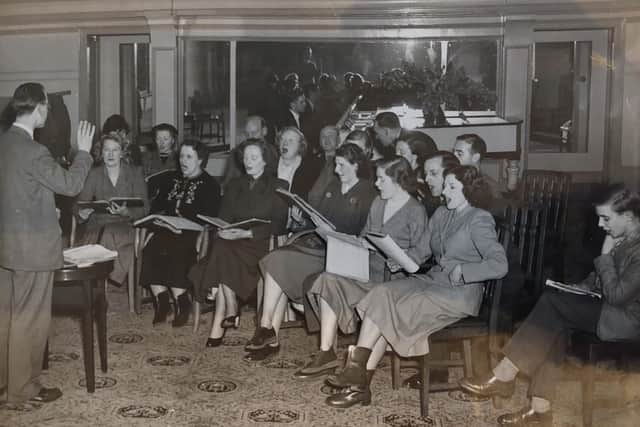 "While they first met in Ann Tregenna, it was later when they were in The Gondoliers together that they started seeing each other romantically. Mum and Dad performed in many Gilbert and Sullivan shows like Pirates of Penzance and The Mikado, but The Gondoliers was always her favourite. I would have liked to take her to a Gilbert and Sullivan show this time."
The eldest and only girl of four children, now the last surviving, Margaret learned to sing around the piano at home, led by her father George Wheeldon, and appeared in village concerts as a child.
Her first stage musical was Show Boat at the age of 18. When she landed her part in Ann Tregenna two years later, she was said to be the youngest ever lead seen in an amateur production in Buxton.
Margaret said: "I was very excited. Everyone felt really good especially as it was made special by being in the Festival of Britain. I loved every minute of it and couldn't wait to get to rehearsals two or three times a week.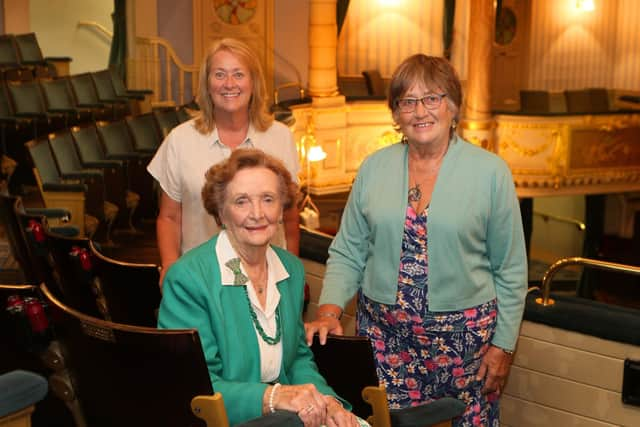 "I didn't suffer with many nerves at that young age. I didn't feel like a celebrity but just a very happy local person. I did receive lots and lots of telegrams of good luck and congratulations. I made so many lovely friends in the opera group."
Though the Buxton Chronicle lauded her performance in Ann Tregenna, Margaret told the paper she had no dreams of stardom and would prefer to keep driving her tractor – she had cut some of the hay bales used as stage props in the performance – though she did harbour early ambitions to be a speech therapist.
As it turned out, Leonard took a job for Tarmac in Wolverhampton, and Margaret would look after the home she still lives in, as well as Sue, the younger Margaret and their brother Steve, and eventually her seven grandchildren.
Sue said: "Surprisingly she didn't follow it through with joining anything local in Staffordshire unlike my dad who joined the Brewood Players.
"Still, mum often talks about her time in the Buxton Opera Group and how special it was. She would definitely say that the performance changed her life for the good."
Support your Buxton Advertiser by becoming a digital subscriber. You will see 70 per cent fewer ads on stories, meaning faster load times and an overall enhanced user experience. Click here to subscribe.