Wheels to Work project draws continued financial support from county council
A charity that ensures people living in rural areas of Derbyshire don't miss out on job opportunities because of lack of public transport is playing an important role during the coronavirus pandemic.
Wednesday, 18th November 2020, 3:57 pm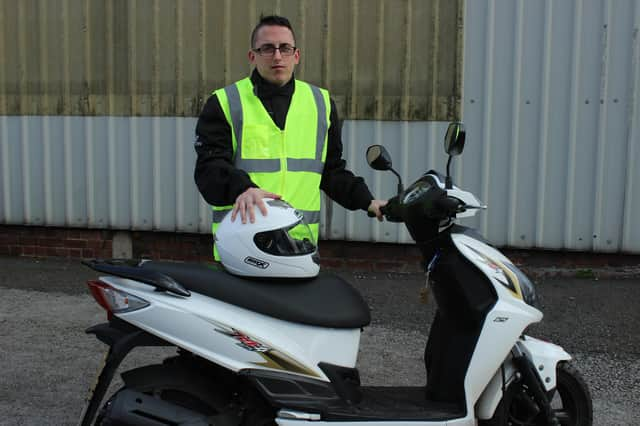 Robert Clark has been helped by the Wheels to Work programme.
Government figures estimate that 51% of the rural population are living in areas that have insufficient transport networks, compared to just 2% of those in urban areas, making it difficult to find work or receive training to increase employability.
And with people advised to restrict their use of public transport during the Covid-19 crisis, the Wheels to Work service run by Matlock-based charity Rural Action Derbyshire is vital.
Wheels to Work, which has been running for more than 15 years, provides access to methods of travel including mopeds and bicycles. During both lockdowns, the project has continued to offer transport support.
One of its main funding streams, Derbyshire County Council, has committed to continuing its long-term support. In the last financial year the council donated £95,000, supplying capital for buying vehicles and vital revenue funding. The charity has so far been awarded £65,000 from the council this year but the intention is that it will be topped up to the same level as last year over the coming months.
Councillor Simon Spencer, cabinet member for transport, said: "We're continuing to help fund the work of Wheels to Work in recognition of the support this charity gives to people in our rural communities. They've had a particularly important role to play during the pandemic, often helping key workers get to the frontline, and have helped to keep Derbyshire moving.
"As unemployment figures continue to rise, Wheels to Work now has the capacity to support vulnerable individuals in their pursuit of training and employment, helping to boost the local economy during an increasingly difficult period."
Laura Mitchell, project manager of Wheels to Work, added: "As people face more barriers than ever to get into and maintain employment, I'm delighted that our partnership with Derbyshire County Council continues to develop and grow, enabling us to offer affordable transport options to people throughout Derbyshire."
To find out more about the intiative , go to www.wheelstowork.org.