Tunstead quarry completes freight transport trial with West Coast Main Line's heaviest ever train
A Tunstead quarry took part in a unique freight transport experiment last month as it loaded up the heaviest train ever to run on the West Coast Main Line.
Monday, 19th April 2021, 4:54 pm
Updated
Monday, 19th April 2021, 5:04 pm
A partnership between Tarmac, Network Rail and Freightliner took the opportunity of a quieter railway network during lockdown to trial a 'jumbo train' to transport construction stone from the Peak District to London on March 16..
At 590 metres long – equivalent to more than five Premier League football pitches end to end – a single class 70 locomotive hauled 2,900 tonnes of aggregates in 39 wagons on a 203-mile journey.
Chris Swan, head of rail at Tarmac, said: "We continually strive to make our business more sustainable. We already make good use of the rail network to transport products out of Tunstead and reduce lorry loads.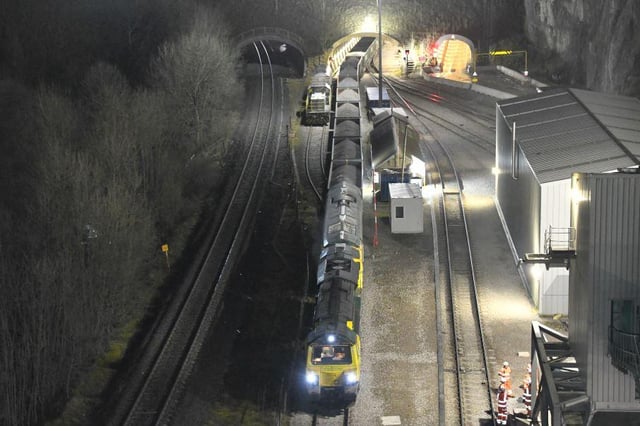 The 'jumbo' train is trialled out of Tarmac's Tunstead site.
"With fewer services running on the West Coast main line, due to coronavirus restrictions, we were able to work with Freightliner and Network Rail to trial the heaviest and longest freight train to ever travel on the West Coast main line."
He added: "We are delighted the trial was such a success and look forward to continuing to work with them to find ways to maximise the benefits of rail transport into the future."
Once it arrived in Wembley, it split to continue its journey on to Battersea and Paddington. After unloading their cargo for use in construction projects across the South and South East, the wagons were reattached and the train returned to Derbyshire.
Usually aggregates trains would carry around 1,500 tonnes, so the additional volume carried by this train represents the equivalent of taking another 110 lorry journeys off the roads, reducing environmental impact and carbon footprint.
Pete Butterworth, stone and powders director at Tarmac Tunstead, said: "Finding ways to transport our products sustainably is a key goal. So, it was very rewarding for the Tunstead site team to be involved in this trial."
The partners are now planning further trials along the same route as they consider ways to use the rail network more effectively.
"In these confusing and worrying times, local journalism is more vital than ever. Thanks to everyone who helps us ask the questions that matter by taking out a subscription or buying a paper. We stand together." – Louise Cooper, editor.