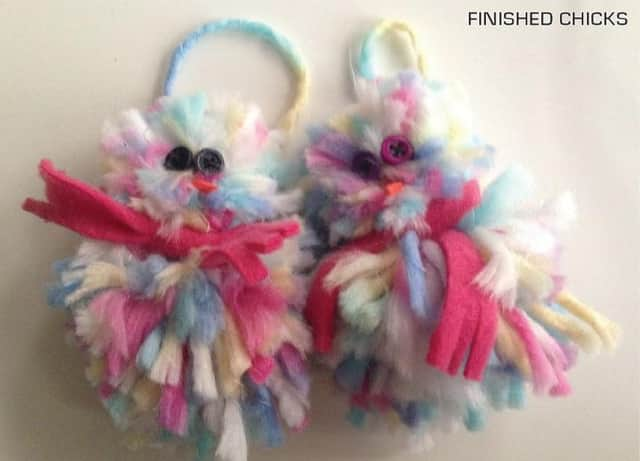 Make these colourful chicks to hang up in your home over Easter.
How about keeping those fingers active by creating something that will last far longer than a choccy egg?
Karen Rogers from StraightCurves has shared her guide to making a chick and it's so easy that even your little treasures will be able to do it.
You will need some wool (chunky or double knitting), some buttons (for eyes), some scraps of fleece or felt (for the beak and scarf), thread or cotton, a needle and a pair of scissors.
Step one in making the chick.
Alternatively if you don't like sewing you can use glue to attach the buttons and beak to the pom-pom head of your chick.
As you can see from the photos, your hand will make you two different sizes very easily (two fingers or four fingers).
Simply cut a piece of wool or yarn to around a foot long (30cm for you metric people) and place it centrally between your fingers.
Then wrap more wool around your fingers to the right of the single piece (or reverse if you are left handed). The more you wrap,the fuller and fluffier yourpom-pom will be. When you are happy, tie the yarn around your wrapped wool once, remove from fingers and tie more tightly on one side with two knots then the other side with another two knots. Then you simply cut each loop of wool in half around the edge of your pom-pom-being careful not to cut the two ends of wool you tied it together with.
Step two and three in making the chick.
Then,hey presto, you have your pom-pom head and body for your chick.You then need to cut your beak and scarf from the scraps of fleece or felt.
Tie your two pom-poms together using the two strands of wool attached to the smaller pom-pom (head) to hold them together.
Then the scarf simply gets tied around the chick's neck. The two button eyes and beak get sewn (or glued) on and you can use the strands of wool attached to the body pom-pom to hang up your chick.
Top tip: Avoid excessive hair cuts. By all means trim any bits that are much longer than the rest but avoid getting carried away or you could end up with a very mini chick!
StraightCurves in Chesterfield offers more than 60 art and craft classes for children and adults, including crochet and knitting, mosaic and beading, paper crafts, pottery and jumping clay, delivered by experienced tutors.The business also runs children's birthday parties and private parties.
Karen Rogers is an experienced designer and secondary school teacher/adult education tutor who launched StraightCurves in 2013.
A message from Phil Bramley, Derbyshire Times Editor
In these confusing and worrying times, local journalism is more vital than ever. Thanks to everyone who helps us ask the questions that matter by taking out a subscription or buying a paper.