Chatsworth House festive season tickets are now on sale
Chatsworth House will be welcoming visitors with a stunning display of Christmas decorations during the festive season.
Thursday, 8th October 2020, 2:21 pm
Updated
Friday, 9th October 2020, 4:58 pm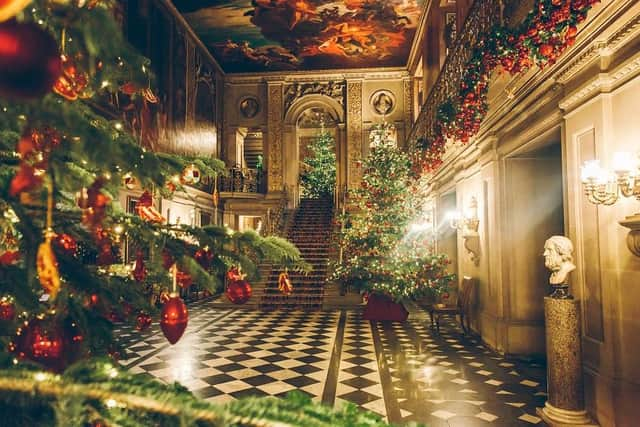 Chatsworth's House's Painted Hall in its festive splendour. Photo by Chatsworth House Trust.
Rooms lit by candlelight with stockings hanging by the fire, along with a letter to Father Christmas and carrot for Rudolph will strike a comforting note; the dining room table fully dressed with a Christmas banquet fit for kings and queens, and a huge 24ft real Christmas tree decked in gold and cream in the chapel are just some of the delights in store.
The State Rooms and Sketch Galleries - usually closed during the winter season - will remain open, providing a one-off opportunity to experience the Devonshire Collections in these spaces, dressed for the festivities.
Tickets have been released for timed visits for the season, running from November 7 to January 3,
The Duke and Duchess of Devonshire said: "Christmas at Chatsworth is always a magical time, but we think that 2020 will be even more special than usual. In such challenging times, we are very much looking forward to the house being decorated and welcoming visitors during the festive period.
"Our team is doing a fantastic job to make sure we offer our usual warm welcome and breathtaking displays this Christmas, while protecting the health and wellbeing of our visitors and employees."
Many of the decorations have been handmade by the team at Chatsworth House. Susie Stokoe, head of textiles , said: "We have been hugely inspired by the ingenuity and creativity of communities near and far during the pandemic. Through working together and supporting each other, in both the physical and online worlds, through the difficult days of lockdown, we have all dug deep. Our Christmas team has drawn on this spirit of resilience, and making the most of what we have, to create beautiful handmade decorations that we hope will delight, and encourage others to have a go themselves."
The Christmas market at Chatsworth will not run this year. Following consultation with the local planning department, it was agreed that the event could not take place without compromising the safety and enjoyment of visitors.