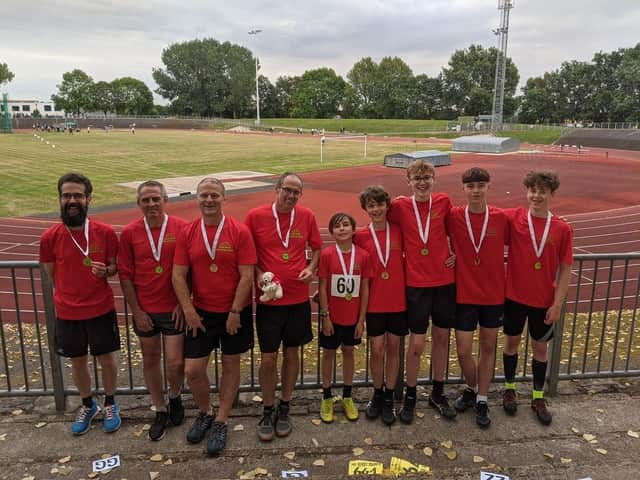 Pictured are some of the High Peak AC medal winners in Nottingham.
Three High Peak AC girls competed at the Harvey Hadden Stadium, with Ruby Sherlock and Margot Gorce doing well in the U13 100m heats, Ruby qualifying for the final. Ruby also competed in the 200m final coming fifth in a PB of 30.21 seconds. Margot came sixth in the final of the long jump with 3.36 metres.
Hannah Dunkin won a bronze medal in the U15s javelin with a very good throw of 19.9m, also smashing her PB for the 200m with a time of 30.09.
The boys team had some great successes. In the U15s there was gold for Tom Boam in the javelin with a throw of 29.41m, a bronze in the 100m with a PB of 12.47, sixth in the 200m final and fourth in the long jump with a PB of 4.95m.
Thomas Gulliver won silver in the 300m and gold in the 1500m in a PB of 4m39s.
Dylan Taylor achieved a PB of 10.16m in the triple jump to become Derbyshire champion, also coming fifth in the long jump and running 14.04 in the 100m heats.
His U15 boys team mate Xavier Morgan won bronze in the 800m and 1500m, with a PB of 4.57 in the latter, also making the 100m final, while Linus Gunter competed strongly in the long jump, ran a PB of 13.72 in the 100m, did well in the 200m and was also a member of the 4x100m boys U15 relay team with Boam, Taylor and Morgan that won gold in a very fast time of 51.69 seconds.
The U17 boys HPAC team consisted of Sam Lilley and Toby McKnight. Sam was carrying an ankle injury so could only compete in the shot put, but won gold with Toby picking up a silver as well as finishing sixth in the 200m.
The HPAC 4x100m relay Masters team of Andy Lavers, JP Gorce, Andy Wilson and Keith Tolley, with a combined age of 222, took gold in 63.16 seconds.
Alongside the county championships, the U11 QUAD kids county championships were being held at the stadium.
This is a mini heptathlon with athletes competing in a 75m race, long hump, howler javelin, and 600m.
HAPC had three entrants in the boys competition: Charlie Wardle, Alfie Fraser and Jack Taylor. Jack won the competition with 249 points with Alfie and Charlie fifth and ninth respectively.