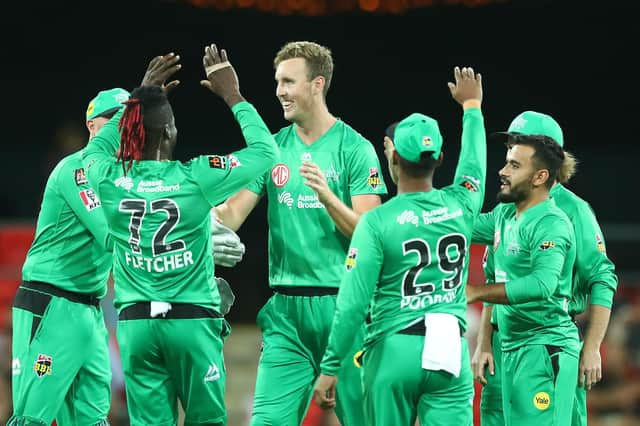 Billy Stanlake takes a wicket for the Melbourne Stars in the Big Bash League. (Photo by Chris Hyde/Getty Images)
The Australia international has joined Derbyshire for the entire 2021 season, subject to final approvals, and will become a key member of a promising bowling attack, which saw a number of players get their first taste of action with the club last year.
Along with fellow countryman Ben McDermott, who will be available for the Vitality Blast and Royal London Cup, Stanlake will bring international experience and a proven white ball record into the Falcons side, who are aiming to replicate their 2019 success and reach Finals Day.
Twenty20 Head Coach, Cork, is pleased with the acquisition of Stanlake, who was a long-term target for the club, and is looking forwrad to seeing what he brings to the attack.
"For Derbyshire Members, who perhaps don't know a lot about him, he's very tall, very quick and an Australia international, who has played in the IPL with Sunrisers Hyderabad, so he has all of the experience in T20. Billy is good at the start with the new ball and he's good at the end, bowling yorkers.
"This signing will add to the experience (of the bowling attack), those young players we had last year, bowling against the likes of Dawid Malan and Joe Root, it was difficult but they stood up well.
"Now, we have a leader, that's what Billy Stanlake will be: a leader of that attack, with bowlers like Michael Cohen, Sam Conners, Dustin Melton, Ben Aitchison and even Fynn Hudson-Prentice, who is still learning his game.
"Billy will be key, as will Ben McDermott, because we now have two solid overseas players."
And Stanlake will be hoping to play in front of a capacity crowd, with no restrictions in place for the visit of Leicestershire Foxes on Tuesday June 22, before the East Midlands Derby with Notts Outlaws under the lights on Friday June 25.
The Chesterfield Festival of Cricket could also be played in front of capacity crowds, with Derbyshire set to host defending champions Essex.