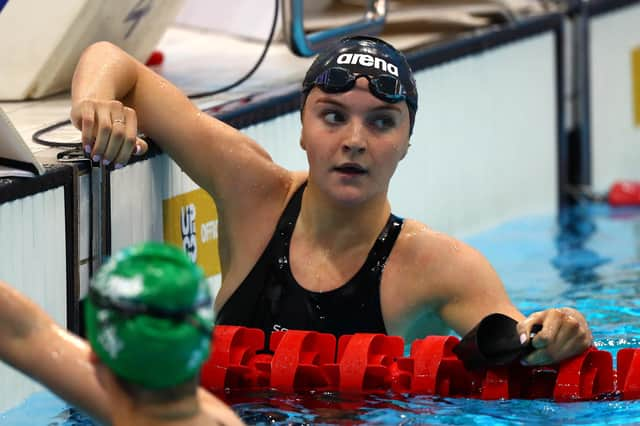 Abbie Wood competes in the Women's 200m Individual Medley heats on day four of the British Swimming Selection Trials at the London Aquatics Centre. (Photo by Clive Rose/Getty Images)
The 22-year-old put in some superb displays at the British Swimming Selection Trials in London securing top two finishes in both the 200m breaststroke and 200 Individual Medley and doing so within pre-designated consideration times that automatically make her eligible for Olympic selection.
And Wood, who is a student at Loughborough University and trains under David Hemmings, was delighted to have performed so well, despite having missed out on the 200m freestyle time on the first day of the trials.
She said after her 200m breaststroke performance: "It's such a relief to get the time. Me and Molly pushed each other as best we could and it worked out well.
"I'm trusting in my coaches. I never used to be a fan of the gym but I've really bought into the whole programme finally – it has been a good five years coming.
"I'm glad I stuck at it as long as I did because there were definitely times I was ready to hang up my goggles but I'm glad I didn't now!"
Wood has enjoyed an impressive year in the 200m breaststroke, having swum 2.22.27 in the Manchester International
Loughborough teammate Molly Renshaw also swam under the consideration times in London to put herself firmly in contention.
She said of Wood's swim: "Abbie trains so hard, she's probably one of hardest trainers I know, so to be able to do that with her alongside me, it was amazing!"
While the Olympic selection trials are the main opportunity to gain places at the Tokyo Games, swimmers will have further opportunities to qualify via the European Championships next month and the Mare Nostrum series in early June.
The three-phase selection process had been devised due to some swimmers being unable to prepare for the London trials as they would have liked due to pandemic restrictions.
British Swimming performance director Chris Spice said: "These selection trials are a key step in our ongoing journey to Tokyo, and we hope to see some fast swimming that will make the selectors task as difficult as possible when we sit down to add names to the Olympic team."