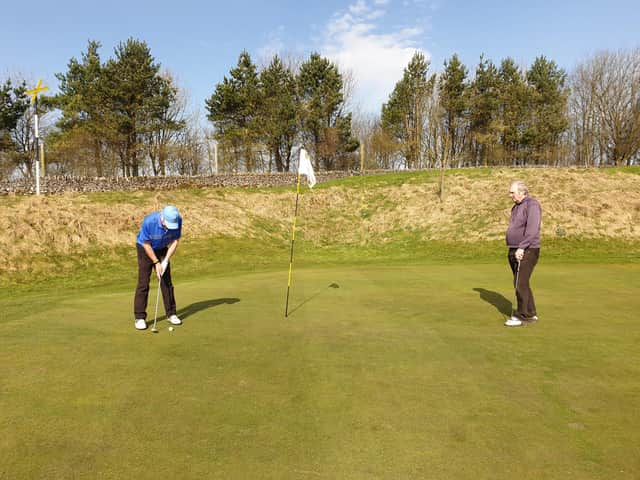 Alan Dickman putting at the fifth hole as Ken Lomas looks on.
The easing of lockdown restrictions saw every tee time taken at the Waterswallows Road club.
Club spokesman Richard Pattrick said it was great to see everyone enjoying sport once again.
"The course was packed and everybody was delighted to be out," he said. "It was blowing a gale, which made it very difficult but people were just so happy to just have an alternative activity in their lives again.
"For many people, especially the older players, that is their focus and to be out there again is great.
"The course was looking good, they have worked hard on it. The sky was blue and it was just a really enjoyable day.
"For the older people, activities like golf is what they do. If they're not doing that they are not doing anything.
"These are the guys who play every day in the winter. They haven't been able to do that and suddenly they are out there again - it was good to see people again.
"The car park was rammed. Every tee time was taken. It was a bit slow because people were a bit rusty.
"That, plus a 30mph wind, meant balls were flying everywhere but people were loving it."
And it is a trend that the club expects to continue as the nights get longer and the weather gets hotter.
The return to action also brings much-needed revenue following months of inactivity over the last 12 moths.
"I expect the course to be packed in the coming weeks," Mr Pattrick said: "When we came out of lockdown last time there was a boom in golf because it was one of the few activities people could do.
"Buxton lets visitors play as well as members at the moment which helps to claw back some lost revenue. They have been starved of revenue as well as golf.
"I think it will be very busy, weather dependent."
The club are now working to enhance facilities by investing in new changing and locker room facilities, while the bar area is getting a complete makeover.They hope it will further build on success over the last year, which has seen club membership numbers rise.