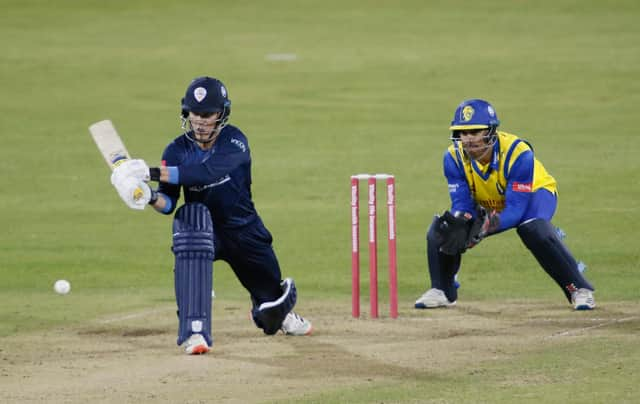 Luis Reece can't wait to play Vitality Blast cricket in front of the fans. (Photo by Ian Horrocks/Getty Images)
Fixtures for the 2021 white ball season have now been revealed, with Derbyshire starting their campaign away to Lancashire and Leicestershire, before playing their first T20 home game since 2019 against Birmingham Bears on Sunday 13 June.
The all-rounder was a key member of the Falcons side which made it to Finals Day two years ago, with most of that team retained ahead of the 2021 campaign.
"Last summer wasn't ideal, with playing all of the games away," he said.
"Being on the road all the time can be a bit unsettling, so be able to get back to playing in Derbyshire and, hopefully, playing in front of spectators is something that we're all looking forward to.
"Sport has been so different (without fans), and it was something that all of the players noticed, particularly in T20.
"When there's no fans, the atmosphere feels a bit lost and empty.
"We've got a great set of fans in Derbyshire, they are very supportive, they make a lot of noise and they get behind us.
"We've missed them dearly, so to get them back will be a massive lift and hopefully we can put on a show for them, remove last year and show the progress that we've made over the last few seasons."
The Falcons will round-out their North Group schedule against Yorkshire Vikings in the marquee fixture at Queen's Park, as part of the BRM Solicitors Chesterfield Festival of Cricket.
Reece and the team have fond memories of the clash, having won their last three T20 fixtures under the crooked spire, and he's looking forward to the occasion again this season, and has praised the supporters for making it such an event in recent seasons.
"You get phenomenal support at Chesterfield," he added.
"It's such a great game for the spectators, but at the same time the spectators have been crucial in creating the atmosphere and the tension that we have thrived on as players.
"We've been on the good end of the results over the last few years and we generally play quite well in the Twenty20 there, and we will be looking to keep that going, because everyone knows what a special day it is."