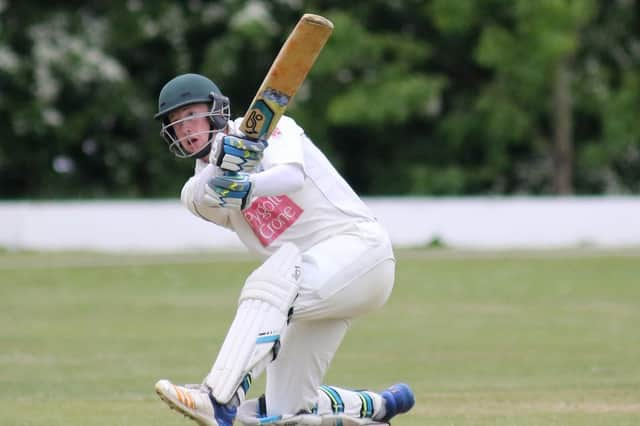 Matt Whitehouse. Photo: Jason Chadwick.
The Firsts sit second in the table, trailing the pacesetters by 17 points.
On Saturday they host third-place Cutthorpe Seconds at the Park in the Derbyshire County Cricket League Division 4NN (1pm).
Buxton continued their good form with a convincing victory over Alfreton Seconds this weekend.
Batting first, Buxton enjoyed a solid opening partnership from Mike Kelly and Bob Marsden.
Kelly played some majestic straight drives and was well supported by another confident innings from Harry Griffen, delivering 35 runs.
But the innings really fired with some ferocious hitting from Matt Whitehouse.
His 88 included a number of huge sixes and he and Andrew Slater (50) took the total to 237 for 6 wickets.
After Frankie Heathcote took an early wiicket, Alfreton worked hard to stay in the game.
But after skipper Andrew Slater had made an important breakthrough, Fran Slater bowled his slow left arm with masterly control of flight and pace to take 5 for 30.
He was well supported by Phil Slater with 3 for 23 and Alfreton were bowled out 165.
Buxton Seconds were awarded 27 points after opponents Cromford Meadows conceded Saturday's fixture.
The Seconds sit 33 points clear at the top of the Derbyshire County Cricket League Division 6NW, with Cromford Meadows bottom.
On Saturday they travel to fourth-place Ambergate Seconds, looking to consolidate their place in the table (1pm).