Buxton Cricket Club ladies team hoping for growth in next 12 months
Cricketer Simone Harch is hoping the sport can continue to grow amongst females across the Buxton area.
Thursday, 1st October 2020, 8:04 am
Updated
Thursday, 1st October 2020, 8:15 am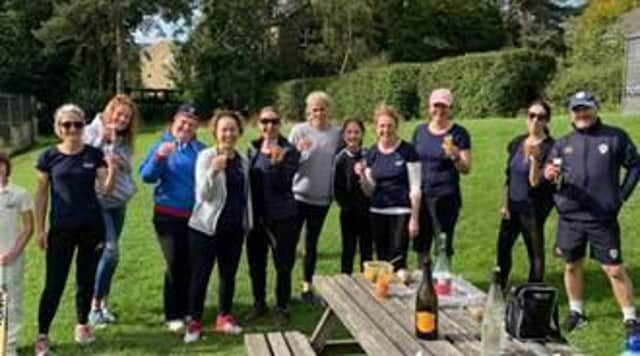 The new Buxton Ladies team already have a win to their name.
The Sydney-born player is a member of Buxton Cricket Club's ladies side which took up the sport for the first time this summer.
And Harch believes the club has already enjoyed a success story with playing numbers healthy despite COVID related issues.
"We are incredibly enthusiastic and have really enjoyed it, not just the social aspect but also learning the new skills and having that disciplined practice and exercise," she said.
The Buxton Ladies team are looking to keep growing in the next 12 months.
"The girls have really enjoyed it in their life.
"Some people played in school, I played a little bit in the backyard or beach holidays but bowling and batting properly is new for a lot of people.
"Hopefully our skills will improve and we can look to progress in the summer. We are focusing on playing and everyone having a good time at the moment.
"You can be good at batting, bowling or fielding, but if you can't do it all you can still bring something to the game."
The team enjoyed their first ever victory during a mini-festival against Hayfield in September.
And for Harch it is very much a case of having an all inclusive ethos to help spread the sport, before focusing on achieving results.
"For us it is really important that everyone is included and has a go at everything, that's the beauty of the format we play now," she said.
"It will be nice if the enthusiasm matches the skill at some point and we are working towards.
"I counted five mother daughter sets in the team that we have who come to practice regularly, so hopeful;ty the younger ones will spread the word about playing.
"It has been amazing how many people we have had training on a regular basis.
"We would like it to snowball, but it is all new and we have only played the same team twice. What we have achieved to date is pretty amazing and it was great to win a match.
"We want to keep training through the winter but it is not so easy with the weather. We can't go and train at the schools due to COVID and it's harder to train when it's colder."