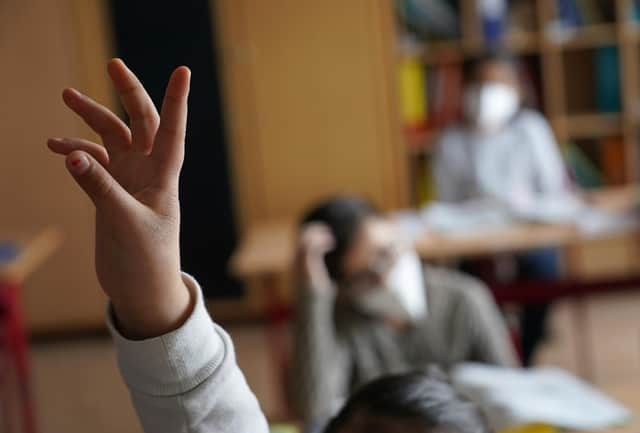 Derbyshire County Council has issued a statement after figures revealed that school pupils across the county were excluded more than a dozen times for sexual misconduct within a year (Photo by Sean Gallup/Getty Images)
Derbyshire schools excluded students 16 times for sexual misconduct in 2018-19 – two permanently and 14 temporarily – according to figures from the Department for Education.
However, this was a decrease on the previous year, when there were 19.
Of the exclusions in 2018-19, the vast majority (15) occurred in state-funded secondary schools and one in a primary school.
They were among 1,972 sexual misconduct exclusions – which include incidents of sexual abuse, sexual bullying and sexual harassment – across England that year.
Though a 13 per cent drop on the year before, the charity Rape Crisis said the number of exclusions will not show the true scale of sexist bullying and sexual violence being perpetrated in schools across England, particularly against girls.
Overall, Derbyshire schools excluded pupils a total of 5,184 times in 2018-19 – 5,033 of which were fixed, and 151 permanent.
Derbyshire County Council said it supports schools with their work to prevent incidents of sexual misconduct, and to learn from any that happen so they can safeguard against them.
"If a school has an issue, staff are trained to pick up on early indicators and know that they may need to refer into Children's social care and the police," a spokesperson for the authority added.
"We also provide a professionals advice line. Workers and managers in the Early Help and Safeguarding service, and school based safeguarding designated leads can provide advice and guidance to key professionals working in education, in addition many schools have family resource workers who can advise and offer support.
"Our on-going work to reduce the number of fixed-term exclusions includes measures to prevent and deal effectively with any problems of this nature.
"This includes Child Exploitation and Online Protection training for schools and a guidance with a policy, tool kit to assist schools and education settings in relation to problematic harmful sexual behaviours, with a model peer on peer abuse policy schools can adapt for their setting, this was updated in March 2021."
A message from Phil Bramley, Derbyshire Times Editor
In these confusing and worrying times, local journalism is more vital than ever. Thanks to everyone who helps us ask the questions that matter by taking out a subscription or buying a paper.