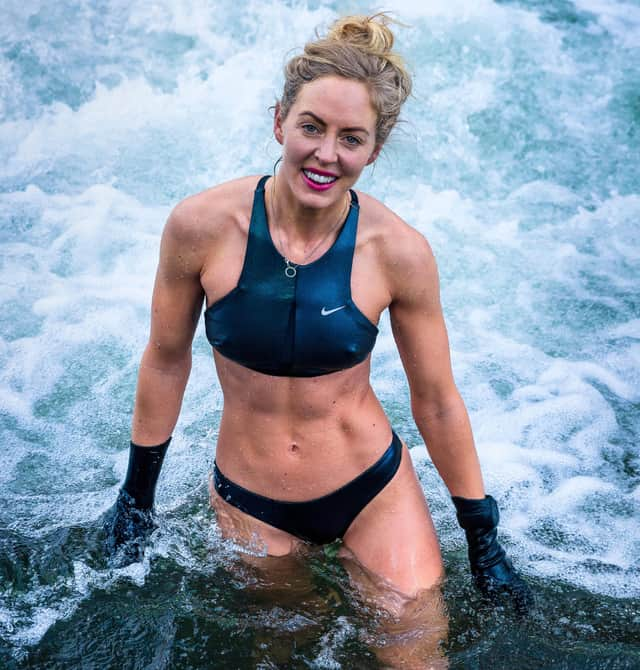 Joanna Shimwell enjoys her early morning swims in Derbyshire rivers. Photo by Nick Johnson
Joanna is a devotee of wild swimming which she says is good for the mind and body and energises her for the busy day ahead.
She said: "I'm a bit of a thrill seeker. The winter swimming started about three years ago when I'd read about the wellness benefits. I was mainly doing mountain biking at the time which was therapeutic for my state of mind. I was short on time because of various different work commitments and I thought I can't fit in a mountain bike ride but I could fit in ten minutes' swim.
"It was a case of get up, drive to the location in the dark, be at the river by the time that the sun's coming up and be home by 7.30am.
Joanna Shimwell finds wild swimming energises her for the busy day ahead. Photo by Nick Johnson.
"I enjoy that connection to nature and the feeling in the morning when everything is so quiet and hardly anyone's around. Then I'll go back home and use that happy experience to keep me going all day."
Working on the family farm with her dad, John, as well as running a campsite from their Dale Farm in Great Longstone gives Joanna little time for herself so she relishes her swims
Joanna, 34, said: "I love sunrise swims. Last week I swam six times and I swim at least twice a week. Very soon we're lambing on the farm and lambing activity tends to happen in the early hours so I won't be going out swimming."
Maintaining the wild swimmer's code of secrecy means she won't divulge the exact locations but admits to taking the plunge in the rivers Derwent and Wye.
Joanna Shimwell is at one with nature during wild swimming. Photo by Nick Johnson.
Travel restrictions have curbed her venturing too far from home in 2021. But a past year's trip to the Lake District saw her swimming in sub-zero temperatures. "I had to use a hammer to break through the ice before I could swim" she said.
Joanna said: "The time you can spend in the water will greatly vary depending on its temperature. If you've not got a wet suit on and it's really cold you might be in for five minutes and that's all you can tolerate. In the summer we might swim for over an hour. I have done skinny dipping but it's not what gets me going...I'm happy to put my wetsuit on and get in the water.
"I'm a confident swimmer so I've never felt worried or threatened or like I was doing anything dangerous.
"If you're not experienced at going into the cold water and want to try it don't go on your own, take someone with you. I've had someone help me put my shoes on because my fingers went so cold I couldn't tie my laces. It's better to wait until the weather starts to warm up because at least you've got the air temperature to help you."
Joanna has converted her boyfriend, Nick Johnson, to her love of wild swimming. "We've got a campervan and when we go on holiday we go off grid," said Joanna. "If I'm out hiking, I'll pack swim stuff on the off-chance that there's water."