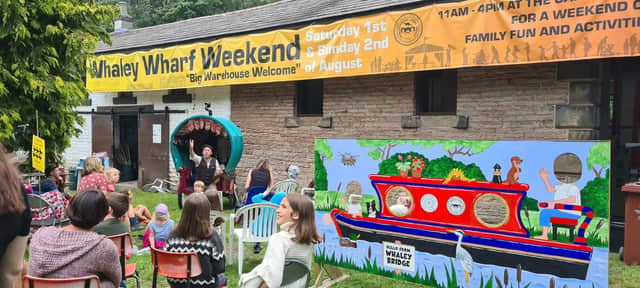 The Whaley Wharf Weekend was held on August 1 and 2.
On the anniversary of the Toddbrook Dam incident on August 1, the town saw more than 2,000 visitors visit an open air market – with 30 stalls spanning the wharf area of the canal basin, ranging from craft ales, pies, cheese, artwork, plants, clothing and hot food.
Tight controls were evident, with marshals on the gate and throughout the site keeping a close eye on numbers and ensuring social distancing.
The Transhipment Warehouse itself offered taster sessions from a potter, a weaver, a jewellery maker, two woodworkers and outside, a blacksmith.
The upper floor, which hasn't been open to the public in nearly 30 years, has been transformed into a spacious workshop and studio.
And the weekend also marked the launch of High Peak Heritage Crafts, which hopes to offer a range of courses including pottery, jewellery making and wet wood working at the venue before the end of the year.
Richard Parry, Canal and River Trust chief executive, said: "It is fantastic to see the historic canal warehouse brought back into use.
"Once the heart of the town's flourishing canal trade, it is wonderful that volunteers from Whaley Bridge Canal Group are now giving it a new lease of life preserving and teaching heritage craft skills."
Visit www.high-peak-crafts.co.uk for more details about craft courses on offer this autumn.