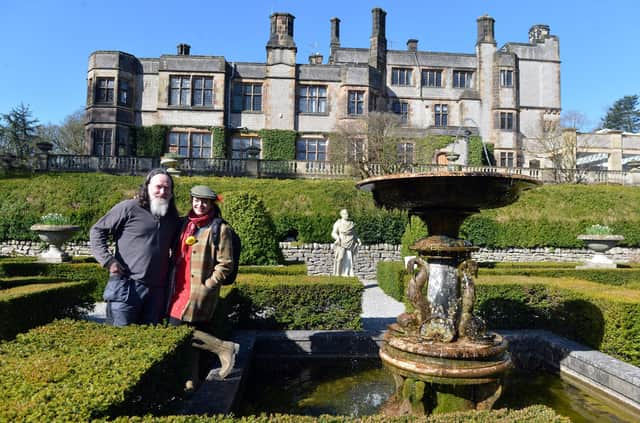 Thornbridge Hall owners Jim and Emma Harrison look forward to welcoming the public to their gardens for the first time in two years. Photos by Brian Eyre.
Thornbridge Hall near Ashford-in-the-Water will reopen its grounds on April 12 when guests can see tweaks that its owners have made during lockdown.
The Clumber Quadrafoil fountain in the Italian Garden has been restored and is now inhabited by hundreds of yellow bath ducks. Nets are provided for children to catch the plastic toys.
Work is well underway on a new glass fronted cafe that will serve home-cooked dishes. The plant nursery is enjoying a makeover and The Bakehouse is being expanded.
Owners Jim and Emma Harrison invite visitors to explore Thornbridge Hall's extensive grounds.
Jim and Emma Harrison own the 12th century hall. Emma said that lockdown had given them the opportunity to carry out the improvements and enjoy their family home. She said: "We realised that we had to share it with other people again. It's too special to keep behind closed gates."
One of the sights that will greet visitors when Thornbridge Hall reopens to the public on April 12.
The Italian garden in the grounds of Thornbridge Hall.
Visitors can admire the stunning collection of trees and plants which populate the grounds of Thornbridge Hall.
The gardens at Thornbridge Hall were originally created in the 19th Century to create a vision of 1,000 shades of green which the owner wanted to see from his bedroom window.
One of the many beautiful outdoor spaces at Thornbridge Hall.
Plants get some tender loving care in the orangery at Thornbridge Hall.
There are plenty of garden areas to explore at Thornbridge Hall.
Bananas are growing in the orangery at Thornbridge Hall.
Members of the public will be able to buy plants from the hall's nursery.
The cafe at Thornbridge Hall will welcome visitors from April 12 and will be open seven days a week.
Work is underway on a new cafe called The Potting Shed at Thornbridge Hall.
Artist Kieran Flynn from Sheffield gives a quirky makeover to a pig shed at Thornbridge Hall.