New life saving defibrillator installed at Buxton's Temple Fields by junior footballers
Buxton Junior Football Club has installed a life-saving defibrillator at the town's Temple Fields.
Sunday, 4th April 2021, 8:00 am
The equipment has now been fully installed on the pavilion wall and is ready to use should someone ever go in to cardiac arrest.
Football club chair Dan Mann said: "We had been borrowing one from the school on training days and match days but during the school holidays we had no cover.
"It's one of those things you never want to have to use but something you should always have just in case."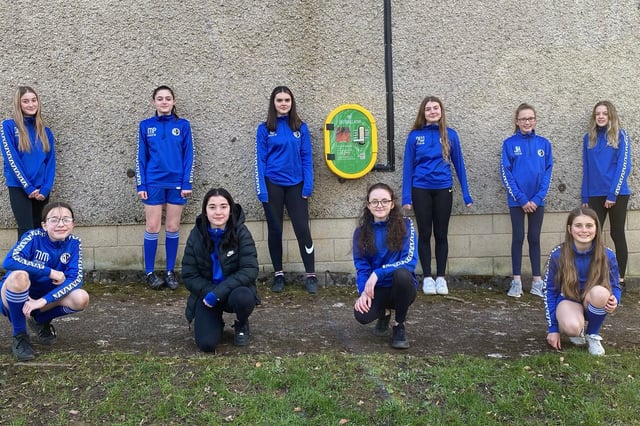 Th u13 girls team who train and play at Temple Fields
Defibrillators are devices that restore a normal heartbeat by sending an electric pulse or shock to the heart. They are used to prevent or correct an arrhythmia, a heartbeat that is uneven or that is too slow or too fast. Defibrillators can also restore the heart's beating if the heart suddenly stops.
By using a defibrillator before an ambulance arrives, it can significantly increase someone's chance of survival.
A spokesperson for the British Heart Foundation said: "To help someone who is in cardiac arrest effectively, a defibrillator needs to be found as quickly as possible.
"For every minute it takes for the defibrillator to reach someone and deliver a shock, their chances of survival reduce by up to 10 per cent."
Dan, 44 from Compton Grove in Buxton, said: "Temple Fields is a busy and popular site not just for the football teams but the dog walkers and the families having fun so having a defibrillator permanently installed just means we are looking after everyone.
"I would never sleep at night if we found out that some died of cardiac arrest up there all because we didn't have one available, we just felt it was the right thing to do."
All the coaches of the football club are trained in how to use the defibrillator and if an emergency happens outside of football hours people should ring 999 and will be given a code to access the machine.
The machine and warming box was funded with donations and support from Buxton Community School PTA, Buxton Cricket Club and High Peak Athletics Club.
Dan added: "Please raise awareness of this within our community, it really could save a life. A massive thank you goes to all involved for making this happen."
In these confusing and worrying times, local journalism is more vital than ever. Thanks to everyone who helps us ask the questions that matter by taking out a subscription or buying a paper. We stand together. – Louise Cooper, editor.