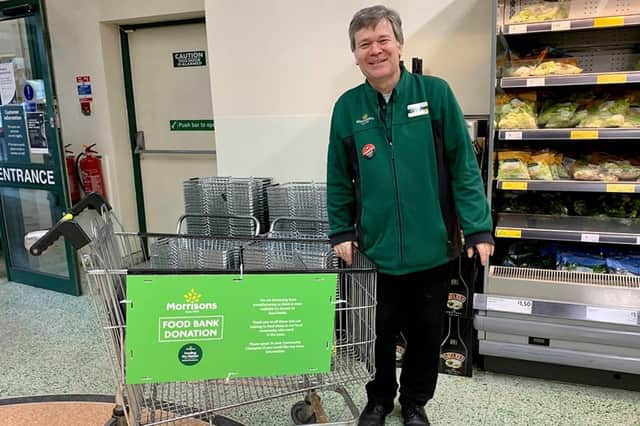 Robert Harrison, community champion at Morrisons in Buxton.
The company has earmarked £10 million of stock to be set aside in each of its supermarkets for local food banks.
Typical food being donated includes bread, eggs, long-life milk, orange juice and bags of pasta. Items are being supplied to the Buxton store where community champion Robert Harrison will deliver them to the town's food bank.
Morrisons bakery, egg and fruit and veg packing site is running for an extra hour every day to make and prepare items required by food banks around the country.
Community champion Robert, who works at the Morrisons store on Bakewell Road, said: "As a food maker and shopkeeper we are uniquely placed to help. We know food banks are finding life very difficult and running our manufacturing sites for an extra hour each day to help restock them is the right decision at this time."
Local food banks, a critical source of supplies for the most vulnerable in our communities, are suffering badly during the current crisis, as donations have dried up rapidly over the last two weeks and demand has soared due to people losing income or being isolated.
To make it easier for Morrisons customers to donate to food banks in store, purchase limits on items will be raised to four items (from three) and some removed altogether.
The Buxton store will create 'local' drop off points for customers to donate products to those in need and a donation hub will collect these additional products for their local food banks.