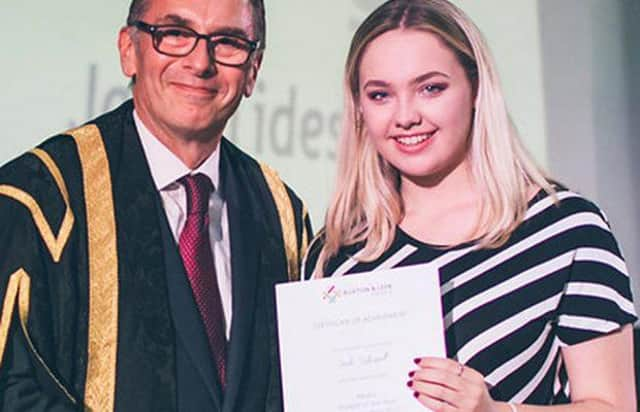 Jade Tideswell studied media at Buxton and Leek College.
Since leaving Buxton and Leek College, former media student Jade Tideswell has done what many only dream of – written and published a book, all while embarking of a burgeoning media career.
Entitled 'What If Bowie Were A Woman?', Jade's book is a fictional biography experience through the eyes of rock star Penny Jones.
Although Jade is only 20 years old, this is not her first attempt at writing a book – she's actually penned 20 – although this is her first published novel.
Jade said: "'What if Bowie Were a Woman?' explores the question of whether gender can influence people's chances at succeeding in their careers.
"And as the title suggests it switches an already famed androgynous figure like Bowie into a digestible 'female' character."
During the page-turner, protagonist Penny navigates her way through her career in the music industry and her journey through womanhood.
Jade was inspired by her dad to write the book.
She said: "My dad was actually the one who came home one day and said the words: 'what if bowie were a woman.'
"It feels quite dramatic to say that those words changed my life, but they did. My mind got completely carried away, and, well… I guess here we are, with a published book."
It took Jade six months to write her first draft and a further 12 months getting it ready for publication.
She said: "Because I self-published, there was a lot more editing than I've ever done before. It's been the longest process I've been on with a book.
"I made the conscious decision to self-publish, and I think it's the best decision I made."
"There were a few reasons behind my decision, but ultimately, with the message of the book being: 'stick it to the man and do it yourself'; it felt hypocritical of me to sell my soul to a publishing house."
'What if Bowie Were a Woman?' written by Kitty Riggs, Jade's pen name, is available to buy on Amazon now.